Covid in Wales: Mask and isolation rules may be extended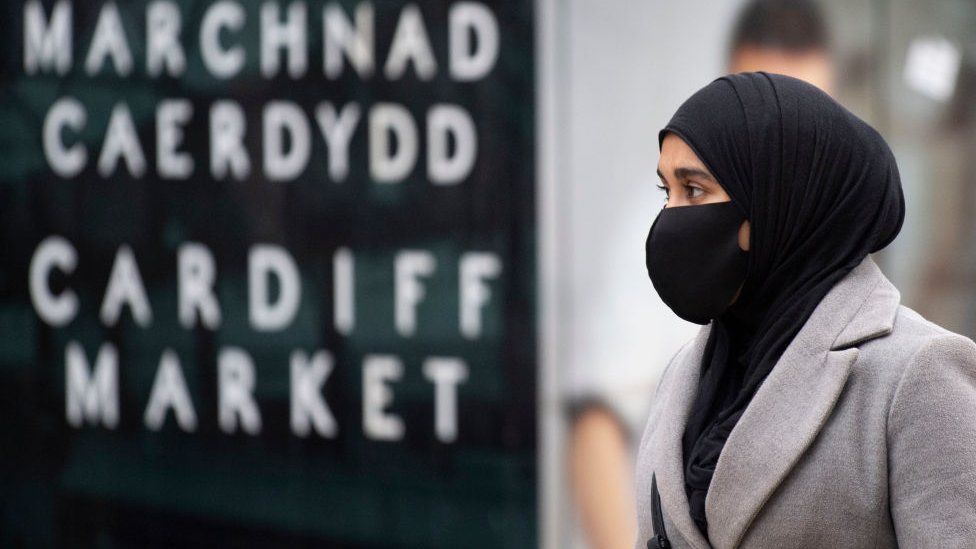 Wales' coronavirus laws - including rules requiring people to wear masks in shops - may be kept beyond their planned expiry date of 28 March.
Rising case rates and hospital admissions have prompted ministers to reconsider their plans.
First Minister Mark Drakeford said the Welsh government faced a "challenging decision".
But it is not clear which rules may be extended. A decision is expected to be taken on Thursday.
Health Minister Eluned Morgan suggested that some, rather than all, rules could be left on the statute book and the Welsh government may "pick and choose" from the remaining Covid legislation.
Betsi Cadwaladr health board, which covers north Wales, said it had 200 Covid-positive patients in hospitals after a "marked increase" in cases, putting hospitals under "increasing pressure".
Meanwhile west Wales' health board said it was rescheduling a "small amount of planned care" after it saw more Covid patients.
The Welsh Covid law requires shoppers, users of buses and trains and visitors to hospitals to wear a face covering.
It also requires people to self-isolate by law if they contract Covid.
While the law, as written, expires on 28 March, ministers could choose to extend it.
Scotland had planned to scrap its face covering legislation on 21 March but has now held off until at least 4 April.
The first minister told BBC Wales: "Up until last week we had more or less eight weeks in a row with the numbers moving in the right direction and that formed the backcloth to the hope that on the 28 March we could lift all restrictions."
He said cabinet had decided to wait for more data later in the week before it made a decision.
Asked if options are still open, he replied: "They have to be I think."
Not 'huge deal' to ask people to wear masks
In a briefing on Tuesday Ms Morgan said: "We have rates that are lower than the rest of the UK but things are going in the wrong direction.
"It's possible we will pick and choose which restrictions to keep."
it would not be a "huge big deal", she said, to ask people to wear face coverings.
"The ask, if it continues, will be a fairly modest one."
Ms Morgan set out that Wales is seeing a "marked increase" in Covid cases, driven by subtype of the omicron variant.
Most people will experience mild symptoms from BA2, she said, but it is still expected to drive an increase in cases and hospital admissions.
"All the signs show it is even more transmissible and faster moving than the original omicron variant," she said.
Cases recorded from positive PCR tests had doubled since the first minister announced plans to scrap Wales rules three weeks ago.
There had been a spike in hospital admissions, Ms Morgan said, with more than 1,200 Covid patients in hospital beds at the moment - the highest level since last march.
About 19% of those are being treated for Covid, but she said the way patients who are infected have to be treated adds to the pressure on hospitals.
The Welsh Conservatives called for the Welsh government to "free us from Covid laws".
"We've been very clear that personal responsibility and government guidance is the best course for Wales," said Tory health spokesman Russell George.
Plaid Cymru said if cases rise it is "right to consider all measures that help limit transmission, without putting further restrictions on our movement".
The party's Rhun ap Iorwerth said should self-isolation be kept "then Welsh government must give a guarantee that lateral flow tests will remain free to use and readily available in Wales".
The weekly swab survey by the Office of National Statistics has shown a rise in infections in the last couple of weeks.
It suggested that 125,400 people had Covid in the week ending 12 March - up on the previous week's estimate of 97,900.
PCR test figures have also increased - from around 156 per 100,000 people at the end of February to 334.5 on Monday, with an increase in the positivity rate from around 21% to 32.4%.
Hywel Dda Health Board in west Wales said it is currently seeing more Covid patients in its hospitals, causing "challenges in staffing".
"The health board is rescheduling a small amount of planned care, to ensure critical services are maintained, with patients affected being contacted directly," it said in a statement.