Budget 2021: What has Chancellor Rishi Sunak announced for Wales?
By David Deans
BBC Wales political reporter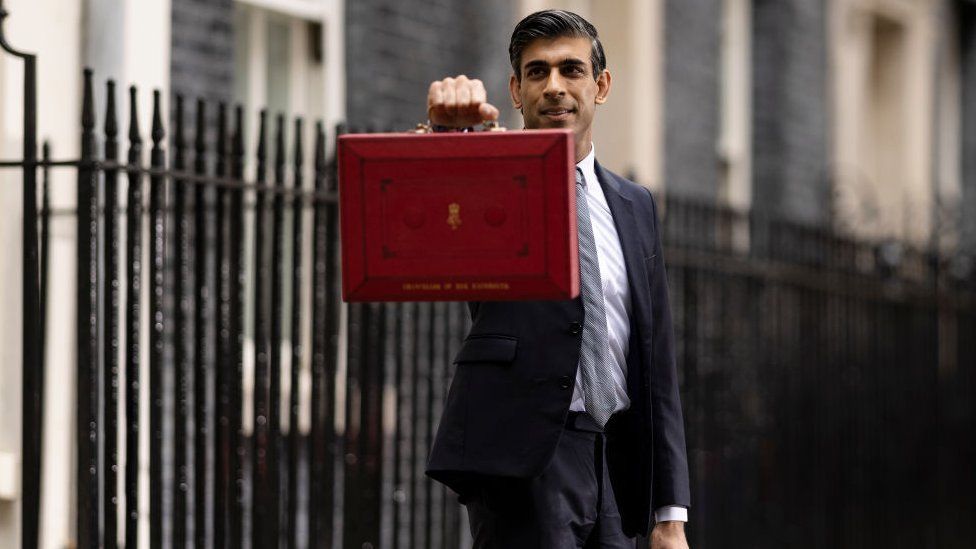 The chancellor's Budget has promised a cash boost for Welsh public services and more money for low-paid workers on universal credit.
Rishi Sunak promised to increase Welsh government budgets by an average of £2.5bn a year.
Just over £120m from the levelling-up fund was also earmarked for ten Welsh projects.
The Labour-led Welsh government accused the Treasury of leaving "clear gaps in funding".
It said its own calls for cash to tackle coal-tips or additional funding for rail infrastructure have gone unanswered.
In his announcement the chancellor promised a cut to the "taper rate" - the point on universal credit where the benefit is reduced because of the money someone earns.
It will drop from 63% to 55%. Recent statistics suggest just under 100,000 people in Wales in low-wage jobs are on universal credit.
Mr Sunak said: "An additional £2.5bn per year in Barnett funding means the Welsh government is well-funded to deliver all their devolved responsibilities, while the people in Wales will also benefit from this government's commitment to levelling-up opportunity and delivering for all parts of the UK."
The chancellor said all of the UK will benefit from the planned UK Shared Prosperity Fund, which is planned to replace EU aid.
"Over time" it will match EU funding of around £1.5bn a year, he said.
But the Welsh government suggested Wales would receive less than the £375m in European funds it had in the past, although it said arrangements for replacing EU cash remain unclear.
Welsh finance minister Rebecca Evans said: "While the spending review does give us some medium term financial certainty and some additional investment, it is more than offset by the inflationary and system pressures that we are facing.
"The budget fails to meet the scale of the challenge that families, public services and the wider economy are still facing as a result of the pandemic."
What tax decisions will affect Wales?
While many services in Wales like health and education are run from Cardiff, and Rishi Sunak cannot decide how money on them is spent, big decisions on benefit and tax are UK-wide.
A cut to the taper rate of universal credit no later than 1 December
Increase to national minimum wage for those over 23 to £9.50 an hour
Cuts to air passenger duty for domestic UK flights
Planned rise in the duty on spirits, wine, cider and beer cancelled
Planned rise in fuel duty cancelled
What was announced for Wales?
Welsh government money funds services like health and schools, which are overseen by ministers in Wales rather than Westminster.
The Treasury said it would provide an "additional £2.5bn per year" in funding for that purpose.
Budget documents show the cash received by Welsh government will go up from £15.9bn this financial year to £17.7bn by 2023, to £18bn in 2024 and £18.2bn in 2025 - with an overall increase of £2.3bn by 2025.
The Treasury said the figures in the budget document take into account money taken off the grant to the Welsh government because of devolved taxes.
It explained the £2.5bn figure is an average of the extra cash earmarked for Wales, when compared to this year, for each of those three years - £2.2bn in 2022/23, £2.6bn in 2023/24 and £3.0bn in 2024/25.
Ministers in Cardiff will decide how to spend their money over the next couple of months.
The Treasury also promised £460,000 of the Community Ownership Fund for three projects.
The UK government said it would fund a "Veterans Commissioner for Wales", and would bring forward £105m for the Cardiff City Region Deal projects.
Plaid Cymru's Ben Lake accused the chancellor of failing to offer a "transformative Budget that would put money in people's pockets in the short and long-term as well as ambitious policies to set a global example ahead of COP26".
"£2.5bn for Wales is a good headline for the UK government. But let's put that into perspective. Wales is owed around £5bn in consequential funding from HS2, which the chancellor once again today decided to withhold from Wales."
Welsh Liberal Democrat leader Jane Dodds said it is "shocking to see the UK government is cutting air passenger duty on the eve of COP26".
"What message does this send to the world about how seriously we take our climate goals?" she said.
Simon Hart, Conservative Welsh Secretary, told BBC Wales that he was "mystified" by the Welsh government's calls for support to clear up coal tips.
"Actually, courtesy of the Barnett formula and the money that we are able to provide Welsh government, they're getting at least £250m from UK government over the next six years for flood alleviation alone," he said.
"It completely dumbfounds me that they can possibly turn around and say that we're not providing sufficient funding."
Where are the levelling-up fund projects?
The UK government has offered a total of £121m from its £4.8bn levelling-up fund to ten projects, including:
Pontcysyllte Aqueduct and Canal World Heritage Site
Redevelopment of the Theatr Brycheiniog Arts Centre in Brecon
Montgomery Canal in North Powys
20km path from Carmarthen to Llandeilo
Old College and Marina in Aberystwyth
Muni Arts Centre in Pontypridd
Haverfordwest Castle
The Carmarthen Hwb
The Porth Transport Hub
Turning 1.3km of the A4119 road into a dual carriageway
Since the UK government is chairing a global conference on combating climate change, starting in Glasgow in a few days, you might have expected the chancellor to have focused his budget on moving towards a green economy.
There was no news for one of Wales' big employers, Tata Steel, which has called for a road map to help it decide how to move from using fossil fuels.
The chancellor did announce a second issue of green bonds, but his focus was on general economic growth not on developing new green industries and ways of operating.
In contrast, rather than encouraging us to fly less he reduced air passenger duty to lower the cost of flying between England, Scotland and Wales to "bring people together".
The planned increase in fuel duty has been cancelled.
Drivers struggling with higher prices at the pump may welcome this but those who want to encourage us out of cars to help the planet will be disappointed.
Average wages in Wales are significantly below the average for the UK and many working families are dependent on extra money from Universal Credit. The £20-a-week top up that they had been getting has of course ended but now if they work extra hours they will lose less money from their UC payments.
However prices are predicted to continue to rise and that along with increases in national insurance will continue to squeeze incomes.