Covid in Wales: Private PCR travel tests allowed in some cases
By Catrin Haf Jones
BBC Wales political correspondent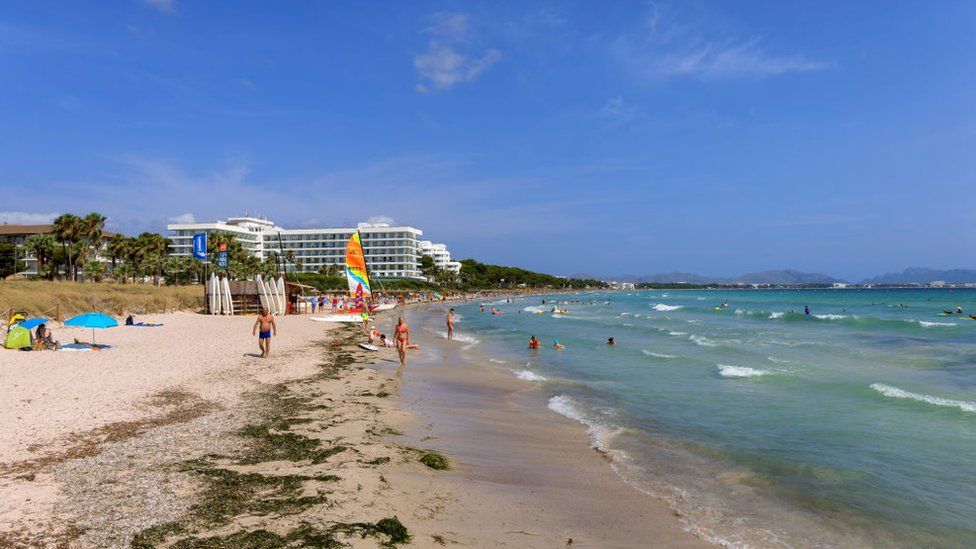 Travellers can use private Covid tests if they cannot access approved ones in time, Welsh ministers have said.
It follows concerns from a traveller who made repeated attempts to buy the required test online and spent hours on the phone with booking agent CTM.
Dafydd Sion is set to fly to Spain next week but is worried he will not get the NHS approved test in time.
The Welsh government said he would be spared a £1,000 fine for using the wrong PCR test in such circumstances.
A spokesperson said travellers would not be penalised for using alternative test providers due to an "inability to book a test because of system issues, combined with the urgency of imminent travel".
CTM said it does not comment on individual cases but was "successfully processing thousands of bookings" every day.
Wales is the only UK nation still requiring those who have been abroad to use NHS PCR tests on day two of their return - and day eight if unvaccinated - at a cost of £68 each, although the Welsh government has said it is reviewing that policy.
BBC Wales has also been contacted by another traveller who says his day eight PCR test result, ordered through CTM, was never returned.
Mr Sion, from Cardiff, has flights booked to travel to Mallorca next week and said he has tried five times to purchase his legally-required PCR tests through CTM, but failed.
"I have been trying to purchase this for the last three days but each time I get confirmation it's shortly followed by a cancellation," he said.
"I've spoken to the customer service team for over three hours in the last three days and got nowhere."
On one 20 minute call with CTM's customer service he said he was asked to "email their customer services team with my personal details, passport details and bank details so they could put the order through for me, which I refused to do due to data protection".
He added: "I think it's awful that the Welsh government only accept the tests from a company that are unable to assist you.
"I am due to fly to Spain next week, however, I also understand that I could be fined £1,000 for not having my correct day two test details."
Another traveller, Tom Bloomfield, said his day eight PCR test results, on returning from Portugal, were never returned.
The retired NHS consultant from Carmarthen said he arrived back from Portugal in July and had booked the PCR tests through the link on the Welsh government's website.
He said: "Our day two results were not returned until day eight. Our day eight results have still not appeared.
"CTM do not reply at all, even allowing for 10 working days as on their website.
"I had a refund from my credit-card provider after complaining to them."
The booking agent said it does not comment on individual cases but was "successfully processing thousands of bookings for Managed Hotel Quarantine and Covid-19 test kits every day".
The spokesperson added: "A small percentage of bookings are declined for a variety of reasons, including but not limited to incorrect details being submitted at the time of booking, or insufficient funds, leading to payment declines.
"Covid tests kits purchased through CTM's online system need to be registered with NHS Track and Trace.
"CTM does not process, store or share Covid-19 test results. Travellers should contact 119 for assistance with accessing their results."
'Reasonable excuse provision'
A Welsh government spokesperson said: "The contract is managed by the UK government Department for Health and Social Care (DHSC) on behalf of all four nations. We have raised the concerns with DHSC."
Asked whether Mr Sion would face the stated fine of £1,000 for being unable to use the correct PCR test on his return, a Welsh government spokesperson said: "There is a provision in our regulations which provides that any person who has a reasonable excuse for contravening the requirement to book an NHS test does not commit an offence.
"In this case, an inability to book a test because of system issues, combined with the urgency of imminent travel, would fall within the reasonable excuse provision."
In England, Scotland and Northern Ireland travellers are allowed to shop around with private providers to purchase their required day two test - and day eight test if unvaccinated - on arriving home from abroad.
The UK government is currently considering a review to the travel rules for England - with travel industry bosses calling for the removal of Covid testing as a necessity of travel back to the UK, which they say puts customers off booking due to cost.