Covid: Call for pub rules to be lifted as ministers meet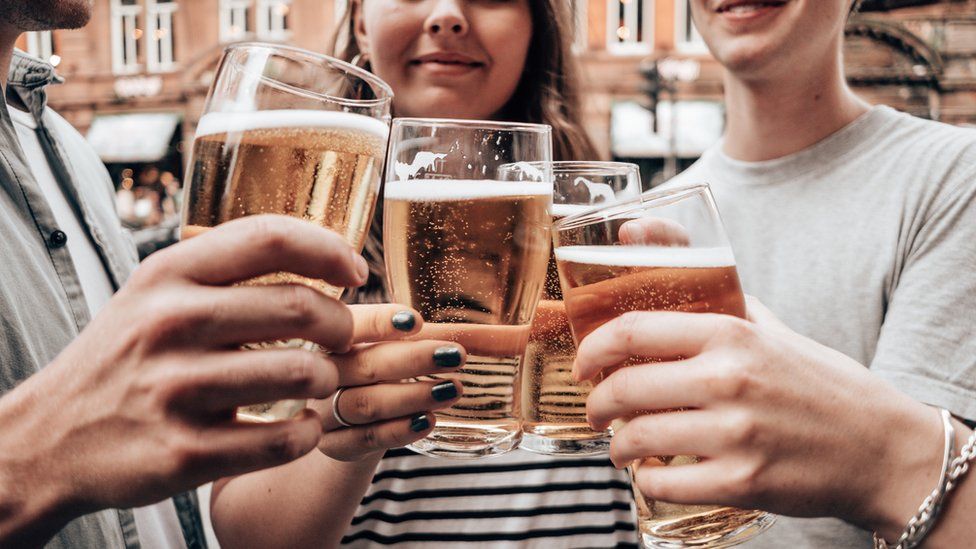 A pub and restaurant group is calling for all significant restrictions on trading to be lifted before July.
Mark Drakeford's cabinet discussed which Covid restrictions to lift next when it met for the first time since Labour's Welsh election win.
Allowing pubs and restaurants to serve customers indoors from 17 May is the next Covid rule set to be relaxed.
But a group representing the hospitality sector says social distancing rules should be scrapped.
The outcome of Monday's cabinet meeting will not be known until later in the week, with the latest plans for lockdown restrictions due to be announced in the Welsh government's next three-week review on Friday.
He is to be formally sworn in as Wales' first minister when the Senedd returns on Wednesday.
Wales' Covid infection rate of 8.6 cases for every 100,000 people is the lowest since August.
Under current plans and providing rates remain low, on 17 May indoor attractions, cinemas and theatres will open alongside pubs and restaurants serving customers inside.
In an open letter to ministers, the Welsh Independent Restaurant Collective (WIRC) renewed its call for Covid restrictions to be eased on the hospitality sector and for financial support at least matching that available in England and Scotland.
The group, representing more than 400 cafes, pubs, restaurants and hotels, urged the Welsh government to allow any six people to sit together indoors and to scrap the 2m social distancing rule.
The letter said it was "not a case of following England for its own sake, but a recognition that the science is the same there as it is here".
"The closer we align our rules across the UK, the easier it is to communicate those rules to an increasingly confused public," it added.
The letter also said there should be "an immediate announcement to signal a restart grant at least as generous as those in Scotland and England".
"That support needs to acknowledge that in Wales we have been under the heaviest trading restrictions of any of the UK nations and that the gap in funding that has persisted since March 31 needs to be filled," the letter added.
Ministers were expected on Monday to decide what to ease next from Wales' lockdown rules.
Local Government Minister Julie James said discussing restrictions around foreign holidays was also "very much part of the package of discussion for Monday".
The Welsh government is yet to confirm if they will align with the plans or take a different approach.
Wales' chief medical officer Frank Atherton told Gareth Lewis on BBC Radio Wales the risks he saw around international travel centred on "too rapid a relaxation of the social distancing rules, and possibly around waning in immunity".
He added: "We can do things about these, but some of them, we just have to be cautious, bide our time, keep to our low rates, and that will keep Wales safe."
Meanwhile, Health Minister Vaughan Gething said the recovery of the NHS from Covid was "going to be a huge task" that he thought would "take a full Senedd term".
The NHS was also facing a huge backlog of treatment and operations that had been delayed because of coronavirus, he said.
Mr Gething said: "You simply can't recover in a matter of months - and that's the level of honesty I think we need with the public and with our staff."
He warned the recovery of the NHS would take time "partly because of capacity but importantly because our staff need to be cared for as well".
Welsh Labour has budgeted to spend at least £1bn extra on NHS recovery.
Congratulations to @MarkDrakeford and @WelshLabour on your brilliant Senedd results.

Your careful and compassionate leadership has represented the best of Labour values.

I know you'll work tirelessly, implementing your radical plans, to improve the lives of the people of Wales. pic.twitter.com/a6K40LaRPx

— Keir Starmer (@Keir_Starmer) May 10, 2021
Mr Drakeford said on Saturday that Wales' response to the Covid pandemic had been a major part in Labour's election win as they were returned as the largest party for the sixth successive time since devolution in 1999.
"A government I lead will continue to follow the science to do what our medical advisers tells us we should do, and that does mean doing things in a way that continues to keep Wales safe," he said.
The Welsh government controls Wales' Covid response and the relaxing of restrictions - such as meeting inside pubs and restaurants and travel rules - has tended to have been more cautious in Wales.
It is up to individuals whether they socially distance with close family and friends from that date in England.
The UK government said it wanted to let people in England exercise personal judgement as more of life returns to normal, but people are still urged to remain cautious and remember some people are more vulnerable to Covid than others.
Addressing the issue of hugging in Wales, Dr Atherton said: "Prevalence rates are really quite low at the moment, and being close to a member of your family is less risk now - but with strangers, I would be very cautious still.
"I think there are other ways to greet people than to give everybody a hug, so there are ways to do that and to do it safely - don't spend too long making face-to-face contact, make it a brief hug.
"But to be honest, I think it is quite right - I understand that grandparents want to hug their grandkids, of course they do, and that's only natural.
"But we have learned over the last year that there are other ways to interact socially, and perhaps… hug cautiously."
Labour returns to power with one more seat than the previous term despite losing the key Vale of Clwyd seat to the Conservatives. Labour held off Tory attempts in other targeted seats
The Conservatives had their best Senedd election, returning 16 Senedd members and are the second largest party in the Welsh Parliament
Former Plaid Cymru leader Leanne Wood loses seat as Labour win back the Rhondda, bringing an end to Ms Wood's 18-year Senedd stay. Adam Price called Plaid's performance "disappointing" but they returned more seats with 13.
The Liberal Democrats lost their only consistency seat as the Brecon and Radnorshire seat held by retiring former leader Kirsty Williams for 22 years was taken by the Tories. But new Lib Dem leader Jane Dodds won a regional seat.
History was made as the first woman of colour was elected to the Welsh Parliament as Conservative MS Natasha Asghar won a South Wales East list seat.
Independent Senedd candidate Michelle Brown's name was left off some ballot papers in north Wales as returning officers blamed a "printing error".
This is a four-party Welsh Parliament now as there were no seat wins for smaller parties.
The 2021 vote was the highest turnout in Senedd election history with 46.6% of voters voting, beating 46.3% in the first ballot in 1999.
The new Senedd is meeting for the first time on Wednesday to elect a presiding officer and deputy presiding officer to conduct proceedings.
Then, once those posts are filled Labour will then be able to re-nominate Mr Drakeford as first minister - with no significant challenge from the opposition expected to his reappointment.
"We have demonstrated over a number of governments that you can govern successfully on 30 seats, but I'm open to working with any party where there is common ground between us," he said.
Lib Dem leader Jane Dodds, their only Senedd member, has ruled out joining the Welsh government like her predecessor Kirsty Williams did.