Welsh election results 2021: What's the secret behind Labour's success?
By Adrian Browne
BBC Wales political reporter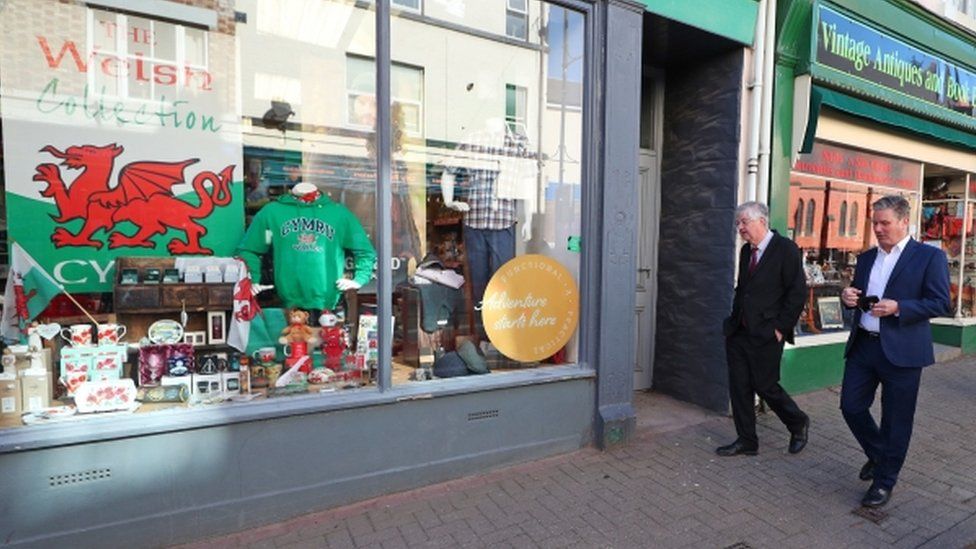 While Labour in England is licking its wounds after losing its traditional heartland seat of Hartlepool in a by-election and the Conservatives made significant gains in local elections, Welsh Labour appears to be living in a parallel universe.
While UK Labour leader Sir Keir Starmer is facing all sorts of questions, Welsh Labour leader and First Minister Mark Drakeford is riding the crest of a wave.
Why then was the Welsh party so much more successful?
Before the pandemic the prevailing wisdom was that Mr Drakeford would struggle against the charisma and passionate speech maker of Plaid Cymru leader Adam Price.
Pundits suggested that while he might be an effective first minister, he didn't have the "lead them into battle" rhetorical oomph of Mr Price.
And then there was the post-Brexit reality - traditional Labour seats had fallen to the Conservatives, particularly in north-east Wales, at the 2019 General Election just as they had in England.
Then came the pandemic. Suddenly the Welsh government had huge power over the lives of the three million people living in Wales.
It could decide when they could leave their homes, it was taking decisions every day that could result in thousands of lives being lost or saved.
And many people in Wales appreciated what's often been described as the careful, thoughtful, earnest approach that Mark Drakeford took to the challenge.
Suddenly, his perceived weaknesses became strengths, and a frightened population facing a national crisis thought, on the whole, the first minister had handled it pretty well.
His profile soared as he appeared in live televised press conferences and got the sort of UK-wide coverage both he and his predecessors could never have imagined, albeit for the worst of reasons.
In election debates, Mr Price praised the way his political opponent had dealt with coronavirus, knowing the first minister was now popular with many Plaid Cymru voters.
Plaid and Welsh Conservative figures have pointed out parties that have been in government during this coronavirus crisis all did pretty well in Thursday's election - in Wales, Scotland and England.
As lockdown restrictions ease, and increasing numbers of us are vaccinated, perhaps many of us felt now wasn't time to revolt against those in charge.
Labour's Senedd election manifesto was criticised as over-cautious, and compared unfavourably with those of other parties.
But Labour figures have warned post-pandemic finances will be tight and, while disputing suggestions it doesn't amount to much, they stress the manifesto is one that the Welsh government will be able to afford.
Part, they say, of the authenticity of Mr Drakeford - not making rash promises that can disappoint voters.
While there are bound to be some lessons Labour can learn from its contrasting fortunes in England and Wales, much of it comes down to the advantage that can be taken from being in government.
And Labour at Westminster seems a very long way away from that at the moment.