Covid-related patients in NHS in Wales up by 49% in a week
The number of Covid-related patients in Wales' hospitals has risen by 49% in a week.
Welsh NHS boss Andrew Goodall said more than 700 people were being looked after - the highest number since late June.
The chief executive said demand for beds would continue to increase in the days and weeks ahead.
"I anticipate this winter will be more challenging than any I have known in my professional career," Mr Goodall told a Welsh Government press conference.
The number of confirmed coronavirus cases in hospital - where a patient has tested - is 326, up 70% on two weeks ago, Mr Goodall said.
That is half of the peak in April, "but I am concerned at the rising trend", he added.
Coronavirus has meant waiting lists have increased, with a "five-fold" increase in the number of people waiting 36 weeks because of limited activity taking place.
There are plans to increase critical care capacity but the 152 normal critical beds are currently full, mainly with people who do not have coronavirus.
There are also plans in place to allow the NHS to balance care and treatment, but Mr Goodall said if capacity in the NHS doubles as it did in March and April, "it doesn't take much with the maths involved to work out that we could see a system that is under pressure".
The NHS chief executive said there was a "different level" of preparation "than perhaps when we were at the first peak".
"We build on experience of many years of dealing with infection control, but this is still a virus that surprises us with its ability, particularly in closed settings, in its ability to transmit across to other parts of hospital and healthcare settings," he said.
He said the Welsh NHS had commissioned plans for an extra 5,000 beds: "This is 10 times the number of our usual winter plans."
Covid-19 outbreaks in hospitals could lead to more suspensions of planned surgery and other services.
There have been outbreaks in nine hospitals - Dr Andrew Goodall said action plans were already in place to tackle them, but added the virus "continues to surprise us" in the way it manages to spread.
But the NHS expects to have 24 weeks supply of personal protective equipment (PPE).
The supply chain for PPE is in a "very good position at the moment", Mr Goodall added.
Call for Covid-free hospitals
Conservative leader in the Senedd Paul Davies says the Welsh Government should set up "Covid-free hospitals" so that routine surgery can be carried out.
Mr Goodall says the rise in Covid cases has had a big impact on waiting times for routine surgery "with a five-fold increase in people waiting more than 36 weeks because of the limited activity taking place".
Paul Davies said: "The Welsh Government and the Welsh NHS should set up covid-free hospitals so that people can continue to receive routine surgery".
He added: "I've had lots of correspondence on this with people very worried about routine surgery and the waits that people have to wait".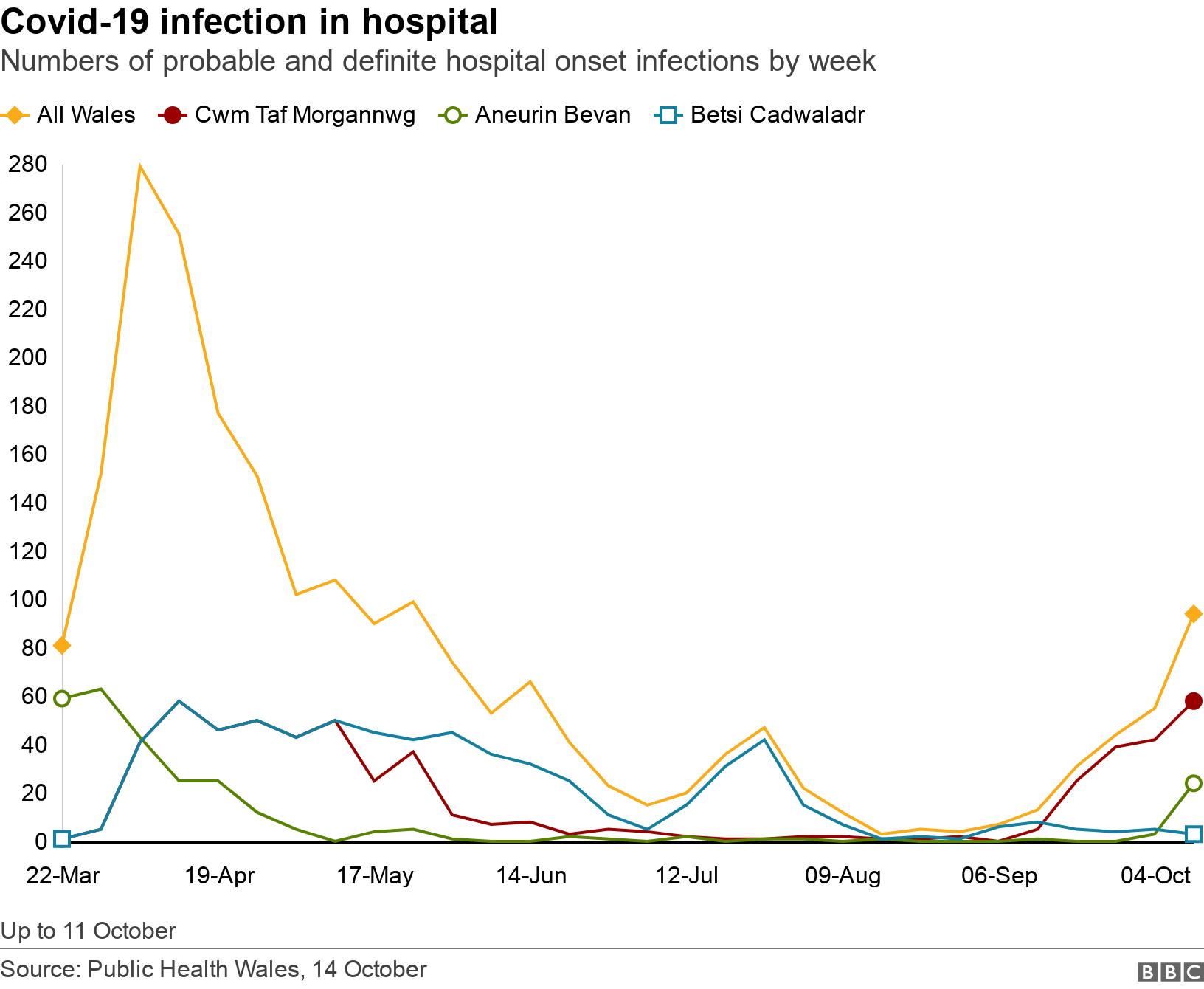 Hospital infections rise again
Meanwhile, the number of patients who have caught Covid-19 in hospital in Wales has risen again.
There were 94 "probable" or "definite" infections caught in the last week - a 71% rise on the previous week.
More than half were in Cwm Taf Morgannwg health board.
There are 58 hospital onset cases in the region in the last week, according to Public Health Wales (PHW).
Cwm Taf Morgannwg said up to Tuesday there has now been 38 deaths, with 32 of these coming at the Royal Glamorgan Hospital.
Medical director Dr Nick Lyons said "In conjunction with PHW we continue to closely monitor cases at a number of our sites. The safety of our patients and staff remains our first priority and immediate measures to contain the spread of the virus have been put in place."
The Public Health Wales figures also show Aneurin Bevan health board has seen 24 cases in the last week, with another nine at Swansea Bay.
A spike in patients infected with coronavirus in hospital in north Wales - at Wrexham Maelor - in July eased off, although there has since been an outbreak at Glan Clwyd and two other local hospitals.
Betsi Cadwaladr health board - where three new infections were reported over the last week - has reported more than 20 patients with infections across the three sites and expects to publish an update at the end of the week.