Covid: Pubs in Wales to close at 22:00 from Thursday
Pubs, cafes and restaurants in Wales will have to shut at 22:00 every night under new measures to control the rising rate of coronavirus.
The rules, to come into force on Thursday, follow a decision by the UK government to do the same in England.
In a broadcast address, First Minister Mark Drakeford called for people to avoid unnecessary travel.
Sales of alcohol from off-licences and supermarkets after 22:00 will also be stopped.
Hospitality businesses will be required to provide table service only.
In the recorded statement, Mr Drakeford said there was a very real possibility that Wales could see the virus "regain a foothold in our local communities, towns and cities".
"This is a highly infectious virus, we cannot let it take a hold of our lives again. We have come too far to let that happen," he said.
Each nation of the UK is tightening restrictions after Mr Johnson, Mr Drakeford and the first ministers of Scotland and Northern Ireland met on Tuesday morning.
Pubs there already have to shut at 23:00, meaning closing times in the six areas will move an hour earlier.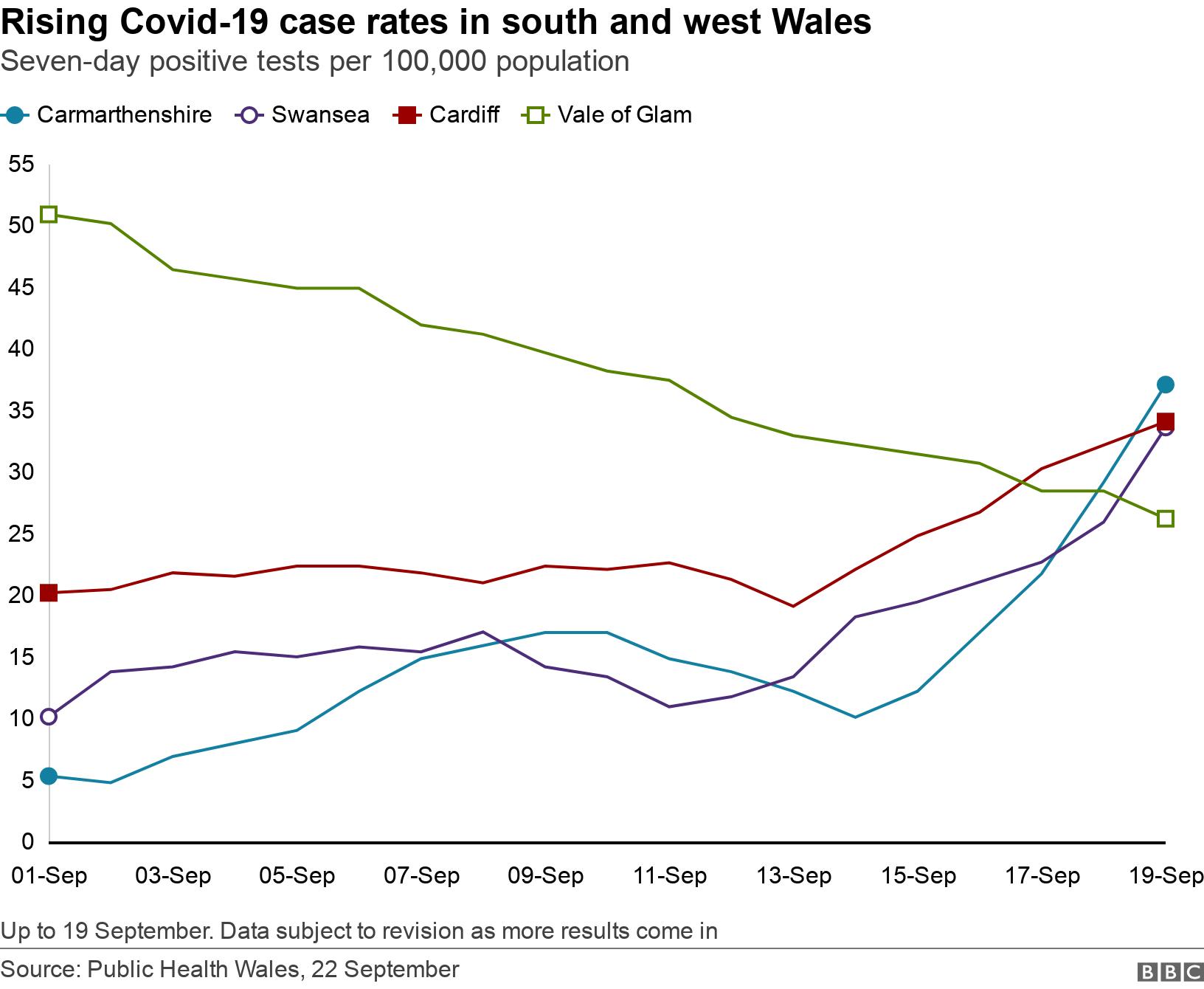 Mr Drakeford said a £500 payment would be provided - as planned for England - for those on low incomes to help them if they need to self-isolate.
The Welsh Government says it will also strengthen regulations to ensure employers support those who need to quarantine themselves.
He reminded viewers that only six people could meet indoors from a single extended household, comprised of up-to four different households.
Mr Drakeford asked people to "think carefully about making journeys."
"The fewer people we meet and the fewer journeys we make, the safer we all are," he said.
However, new pan-Wales travel restrictions are not being made in law.
These new measures don't change the Wales-wide picture enormously but they do add to the mosaic building up around the country.
There are still much tighter restrictions in local lockdown areas so there's increasing complexity in the rules - and a bigger challenge for politicians and public health officials in communicating which rules apply where.
And while these rules may be important in tackling the threat of Covid, getting a testing system that can cope with demand and deliver results in a timely and efficient way is also vital.
What is the political reaction?
The Conservative health spokesman in the Senedd, Andrew RT Davies, called again for "hyperlocal lockdowns based on the best available data" so "little of Wales and its economy as possible is closed, even temporarily".
"Safeguarding lives as well as livelihoods, and sheltering the economy, must remain the priorities," he said.
Plaid Cymru leader Adam Price said areas under increased restrictions should see stricter rules on alcohol, with sales from off-licences stopped at 18:00 and either pubs closed indoors completely or ones that do not serve food shut.
"Crucially, these steps must be backed up by sector-specific financial support to affected businesses," he said, adding that people from lockdown areas elsewhere in the UK should be banned from coming to Wales.
Mark Reckless, Brexit Party Senedd leader, said he was opposed to the "further lockdowns" announced by the Welsh Government.
He told BBC Wales: "We think it would be better to trust people's individual judgments as to their risk and the risk of those they live with and make their own decisions depending on the evolution of the virus".
Earlier in the Commons Boris Johnson, who is responsible for coronavirus rules in England, said restrictions could last six months.
The Cwm Taf Morgannwg health board, covering Bridgend, Merthyr Tydfil and Rhondda Cynon Taf, has warned it is a "matter of weeks" before a sharp rise in hospital admissions in the area.
The tightening of restrictions comes amid a row over whether the announcement should have been made in the Welsh Parliament first.
Presiding officer Elin Jones told the Senedd earlier she had been told final decisions "aren't likely to be made until a little before" 20:00 BST on Tuesday.
After the news of the restrictions broke two hours before the broadcast by Mr Drakeford, Plaid Cymru's Mr Price accused the Welsh Government of treating the Senedd with contempt.
Mr Davies of the Welsh Conservatives said it was disrespectful to Ms Jones, a Plaid Cymru Senedd member who oversees the Welsh Parliament.
First Minister Mark Drakeford clarified on Wednesday that pubs and restaurants have to stop serving alcohol at 22:00, rather than close completely.