Coronavirus: Three new additions to Wales virus quarantine list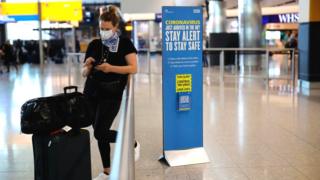 People returning to Wales from Belgium, the Bahamas and Andorra will have to quarantine at home for a fortnight.
Wales' Health Minister Vaughan Gething announced the change, which will come into force from midnight on Thursday.
A short time later the other UK nations followed suit, with the change coming into force at 04:00 BST on Saturday.
Belgium has one of the highest coronavirus case rates in Europe at 49.2 per 100,000 people, compared with 14.3 per 100,000 in the UK.
UK Transport Secretary Grant Shapps tweeted: "Data shows we need to remove Andorra, Belgium and the Bahamas from our list of [Coronavirus] travel corridors in order to keep infection rates DOWN."
The three destinations will be removed from the list of countries which have been exempted from border health controls.
Luxembourg, Spain and Serbia were all removed last month.
Mr Gething said the decision was made after he "considered the evidence for the public health risk now posed by travellers who enter the UK from these places".
In other changes, travellers arriving from Brunei and Malaysia will not need to quarantine.
A Welsh Government spokesman added: "The four nations of the UK made this decision together and we have amended our regulations."
There are currently no direct commercial flights to Belgium or the Bahamas from Wales, but air passengers can connect via Paris or Amsterdam or use an English airport.