Keir Starmer says face masks a matter for Welsh ministers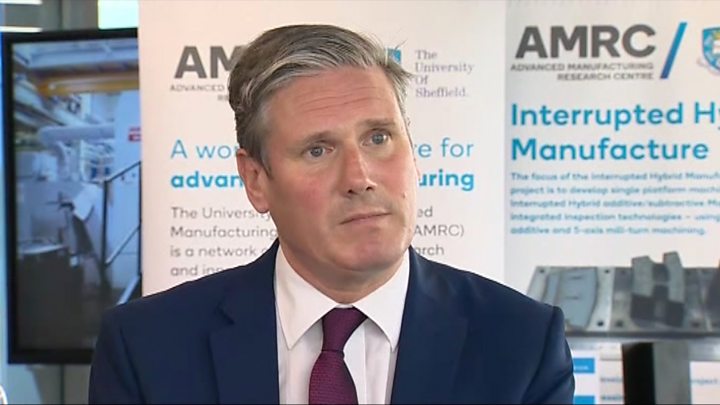 Labour leader Keir Starmer has failed to back the Welsh Government's stance on face masks in shops in an interview with BBC Wales.
Asked who was right on face coverings - Conservative UK ministers or the Labour Welsh Government - he said it was for each individual government to decide.
The UK government has made the wearing of face masks compulsory in English shops - a policy Sir Keir supports.
It has not been implemented in Wales.
However the Labour leader said the Welsh Government's response to Covid-19 had been better than the UK government's in England.
He claimed levels of public confidence in coronavirus measures were better in Wales than England.
The Welsh Government has made face coverings compulsory on public transport - as had the UK government in England.
It has advised their use in places where it is difficult to social distance.
Wales' Chief Medical Officer Frank Atherton said in July that the evidence for making them mandatory was "quite weak".
Opposition parties have called for them to be compulsory in shops.
"It's for each government to decide," Mr Starmer said, speaking on a visit to the Advanced Manufacturing Research Centre in Broughton, Flintshire.
"What they need to do is say what's the scientific basis for the decision's being taken."
Asked again if he disagreed with the policy, Mr Starmer declined to answer again.
"The Welsh Government actually has shown what a difference it makes for Labour to be in power, because the response to the Covid crisis has been so much better in Wales than it has been elsewhere," he said.
He said Welsh Labour ministers had gone for a "planning first and action afterwards rather than declaring action and planning afterwards, which has been the prime minister's approach".
"What we've seen is cautious action by the Welsh Government, but supported in large measure by the public, and I think that tells its own story."
Sir Keir's visit followed July's announcement of major job losses at Airbus in Broughton and he called on UK ministers to reverse plans to end the furlough scheme to save Welsh jobs.
Labour wants a reformed programme to support sectors of the economy worst-hit by coronavirus, including aerospace.
The Treasury said it had given Labour Welsh ministers money to "plan their own support schemes".
This was Sir Keir's first trip to Wales since taking over the Labour leadership from Jeremy Corbyn in April.
In December's general election the party lost six seats to the Conservatives, including Wrexham, Vale of Clwyd, Clwyd South and Delyn in north east Wales.
The losses left Labour with only one seat in north Wales - Alyn and Deeside.
The new leader has held a series of virtual meetings with voters, including in north east Wales, as part of efforts to reconnect the party with traditional Labour voters it has lost.
His visit also came ahead of a Senedd election next May, in which Labour will be seeking a sixth term in office.
The party has led the Welsh Government continuously since devolution in 1999, including two spells with support from other political parties.