Coronavirus in Wales: Up to 30 can meet outdoors and gyms to reopen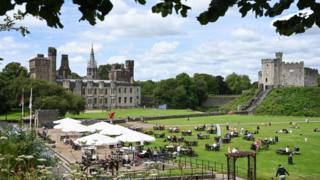 Up to 30 people can meet outdoors and children under 11 will not have to social distance in Wales from Monday.
Swimming pools, gyms, leisure centres and indoor play areas, including soft play, will be allowed to reopen from 10 August.
First Minister Mark Drakeford said the new guidance for children was because of their lower rates of transmission.
Licensed wedding venues will be able to reopen from Monday, but receptions will need to be outdoors.
The changes are part of the latest review to the coronavirus rules in Wales.
Mr Drakeford admitted on Friday that new lockdown restrictions in the north west of England had given him "pause for thought" before easing the rules further.
But he said the changes bring those areas line with Wales, and declined to call for people not to travel from the places affected.
Plaid Cymru has called for measures to limit non-essential travel from the affected areas.
Mr Drakeford suggested Wales was near the limit of what could reopen and the "headroom" that was left could be needed to allow schools to reopen in September.
"I think we are now pretty close to the point where most aspects of the Welsh economy have been able to reopen," he said.
"There are a small number of things still on a list that can't reopen - nightclubs, casinos and so on.
"I think it'd be a while before they are able to reopen."
Research by University College London suggested 61% of adults in Wales had a "broad understanding" of current lockdown rules, compared with 45% in England.
But of the 7,600 people from Wales who took part in the Covid-19 Social Study, only 18% reported "complete understanding" of guidelines as lockdown has eased. The percentage agreeing to the same question in England was 14%.
What's changing in Wales?
The latest three week review means that from Monday up to 30 people will be able to meet outside, while social distancing, regardless of how many households they are from.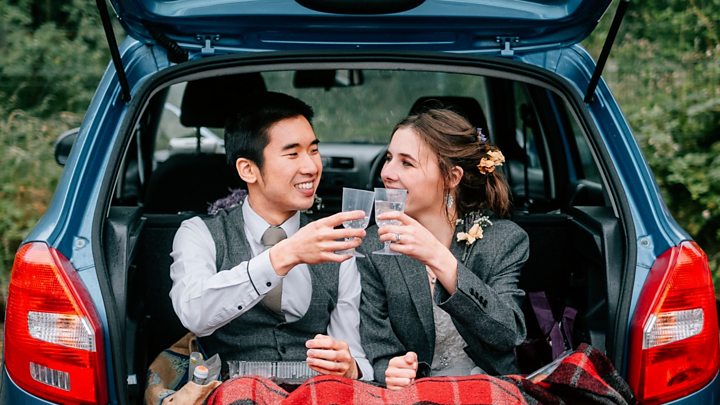 More may be able to meet indoors from 15 August but Mr Drakeford said he wanted more data on the infection rate before confirming it.
"It is the most risky thing you can do," he told BBC Radio Wales Breakfast.
"People would have heard this morning freedoms in the north of England being reversed in relation to people meeting indoors because of the evidence that the virus is being spread by households meeting indoors," he said.
"We hope not to be in a position of having to reverse decisions in Wales, so we will wait another couple of weeks."
Meanwhile:
Indoor bowling alleys, auction houses and bingo halls will be able to resume trading on Monday, alongside indoor pubs, restaurants and cafes - providing there is social distancing
Swimming pools, spas, indoor leisure centres, gyms and children's indoor play can open on 10 August, as long as coronavirus conditions "remain favourable"
Licensed wedding venues will be able to reopen from Monday in Wales.
Receptions will need to be outdoors, but that could change from 15 August. People have already been able to get married in places of worship.
People from elsewhere in UK 'welcome' to Wales
The Scottish Government has warned people to not to travel to the areas of England affected by new local lockdown rules, and anyone planning to travel from there to Scotland to cancel their plans.
Plaid Cymru leader Adam Price said by not limiting non-essential travel from affected parts of England, there was a risk of "undoing all the good work to contain outbreaks in both countries".
"Restrictions have been imposed in the north west of England to try to slow down transmission there, but with many of the four million affected people regularly travelling to the north of Wales for work or for holidays, this has a direct impact here, too," he said.
But Mr Drakeford said "travel restrictions in their own right" were not being considered, and instead said visitors from elsewhere in the UK were "welcome".
"If you come to Wales, please help us to keep Wales safe," he told a press conference.
The first minister called for visitors to "to maintain social distance, make sure you wash your hands," and "if you're using shared facilities do so carefully and consciously".
People living in Greater Manchester and other parts of northern England have been told they cannot mix with other households in private homes or gardens.
But Mr Drakeford said the measures "by and large brings the position there into line with the position that we already have here in Wales".
Lockdown eased outdoors 'while we can'
Part of the reason for relaxing lockdown restrictions in Wales is to allow people to make the most of the outdoors "while we can," the first minister said.
Mr Drakeford said the situation would be assessed again in the autumn ahead of a period where coronavirus could "thrive".
"The summer weeks are going through our fingers," he said.
"We still have the whole of August and with a bit of luck most of September in which people will be able to enjoy the outdoors.
"We will then have to assess in the autumn, when we know we are heading into the time of year - the cold, the dark, the damp - all those conditions that coronavirus thrives in."
What about Wrexham?
The news comes as health officials deal with a spike in cases in Wrexham. Mr Drakeford also said he had discussed not relaxing rules in that part of Wales.
However "weighing it all up and knowing that the Wrexham spikes are contained to particular sites at the moment, we think it's right to allow people in Wrexham to benefit from these steps ahead as well as everybody else", he said.
"If we need to, we've always said, we would take local action and we review that very carefully every day."
Drakeford and PM speak for first time since May
Prime Minister Boris Johnson and Mark Drakeford spoke for the first time since 28 May on Friday.
A call was held between the PM and the first ministers of Wales, Scotland and Northern Ireland.
BBC Wales was told it was held at Mr Johnson's request. Mr Drakeford said they discussed the lockdown changes in northern England.
The Welsh Government has been slower than other parts of the UK in lifting restrictions, and Welsh Labour ministers have emphasised a cautious approach.
But as coronavirus cases fell some of the most severe lockdown rules - including the travel ban and the enforced closure of non-essential shops - were removed.
At the same time measures such as contact tracing have been stepped up, with the hope that more testing will allow outbreaks to be isolated and stopped in their tracks.
The Welsh Conservatives' Darren Millar said earlier this week that freedoms "have or are being safely restored in other parts of the UK and people in Wales should be able to enjoy them too".
Plaid Cymru said any easing of restrictions needed to be accompanied by a "robust mechanism to stamp out coronavirus outbreaks".
The coronavirus lockdown in Wales is controlled by the Welsh Government, while the UK government in London has been dealing with the equivalent rules in England.