Coronavirus: '£500m extra for Welsh Government' from chancellor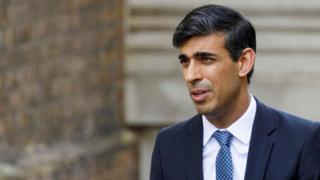 The Welsh Government will get an extra £500m as a result of the chancellor's summer statement, the UK government has said.
Rishi Sunak announced measures to help hospitality, tourism and young people in the Commons on Wednesday.
Measures include cuts to VAT and discounts for eating out.
But the Welsh Government said the announcement did not pull the "levers needed to support" the recovery from coronavirus.
The UK government says it has provided Welsh ministers, who run many of Wales' public services including the NHS, with a total of £2.8bn during the pandemic.
In the statement the chancellor announced a 50% discount for diners in August, and a VAT cut for hospitality and tourism from 20% to 5%.
Both measures will apply in Wales, as will a £2bn 'kickstart' scheme to create more jobs for young people.
The decision to give employers £1,000 per staff member they take back from the furlough scheme is also UK-wide.
But a temporary stamp duty holiday on the first £500,000 of all property sales applies to England and Northern Ireland. In Wales stamp duty is devolved.
Chancellor Rishi Sunak said through the crisis the UK government has "supported hundreds of thousands of people in Wales, putting in place one of the largest and most comprehensive economic responses in the world".
The measures led to calls from the UK government for ministers in Cardiff to go further in relaxing lockdown.
UK government Welsh Secretary Simon Hart said: "The opportunities we are creating and the new routes into employment are great news for young people in Wales, while VAT cut for tourism and hospitality will be a huge boost for that sector.
"It is now absolutely essential that Wales' world-class tourism and hospitality industry can properly open for business."
Currently no date is set for pubs, cafes and restaurants to reopen indoors in Wales, although plans are for them to use outdoor spaces from 13 July.
Outdoor attractions have been allowed to reopen with the lifting of travel restrictions last Monday, and self-contained accommodation is also expected to open from 13 July.
Welsh stamp duty cut not ruled out
The UK government announcement on stamp duty prompted requests for the same in Wales, where the charge is called land transaction tax (LTT).
It is not levied for properties sold in Wales worth £180,000 and lower.
Estate agent Morris, Marshall and Poole with Norman Lloyd, said such a cut would "stimulate the local market", while the Home Builders Federation said cutting LTT would "increase industry confidence and encourage investment".
Wales' finance minister Rebecca Evans did not rule out matching the stamp duty holiday, saying she would consider the implications of the announcements over the "next day or so".
Ms Evans said it was "really surprising that the chancellor had very little to say today about public services, health, social care" and local government, calling for more cash to "reopen healthcare more widely".
She added the youth employment scheme looked "very much indeed" like the Welsh Government's part-EU funded Jobs Growth Welsh scheme, which she said had helped 20,000 into employment since 2012.
The 'kickstart' fund will subsidise six-month work placements for people on Universal Credit aged between 16 and 24, who are at risk of long-term unemployment, while Jobs Growth Wales offers firms subsidies for six-month job opportunities.
Ms Evans denied that the restaurant discount would put more pressure on the Welsh Government to reopen indoor hospitality. "I think what we really want to see is the evidence which tells us that it is safe to increase the opportunities for those hospitality businesses to open," she added.
The UK government said the summer statement confirmed "an additional £500m of Covid-19 funding for the Welsh Government through the Barnett formula".
The Welsh Government has seen its budgets rise since the Covid-19 crisis began - the UK government said it has now provided £2.8bn extra cash.
Under the Barnett system, public spending in Wales, Scotland and Northern Ireland increases or decreases according to how spending in England rises or falls.
Welsh public services are mostly funded by UK governments grants, with a small amount of revenue from Welsh Government taxation in Wales added on.
The last Welsh Government supplementary budget in May for coronavirus said ministers in Cardiff were spending £22bn in 2020/21.
Plaid Cymru said the UK government had not learned the lessons from the start of the coronavirus crisis, and did not announce any measures to support the next stage of the pandemic, such as local lockdowns.
Brexit Party Senedd leader Mark Reckless welcomed the chancellor's statement: "We would encourage Welsh Government to cut stamp duty here too, but there is not much point while they still ban most property viewings. It's time for a UK wide approach."
The Welsh Government said it is awaiting "full clarity on what this announcement means for Wales but we do know that it did not pull the macro levers needed to support the recovery".
"It ignored the joint calls from devolved nations to ease the rigid fiscal rules that limit our response and made only a passing reference to public services".
Welsh Finance Minister Rebecca Evans, together with counterparts in Scotland and Northern Ireland, has called for the rules to be loosened so devolved governments can borrow more.