Coronavirus: Shops expected to reopen in Wales from Monday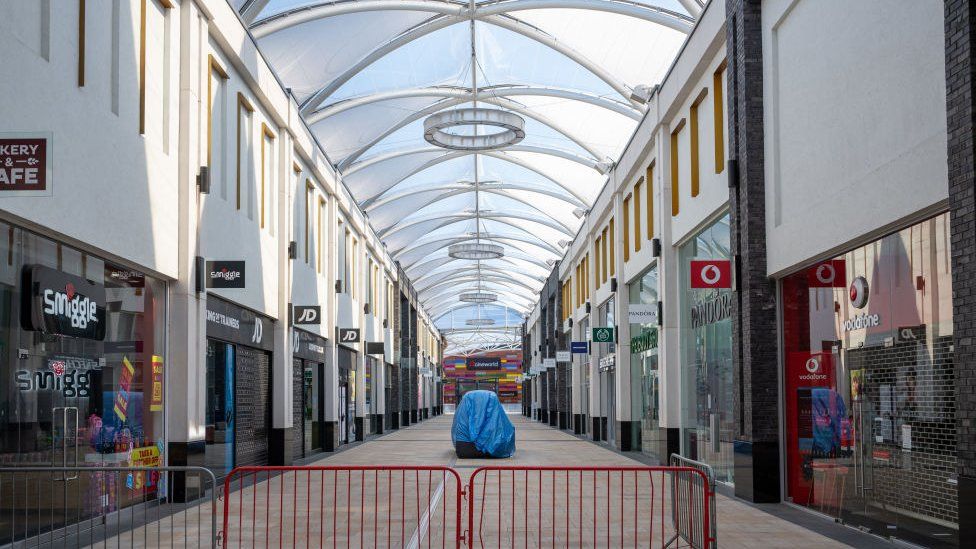 Non-essential retailers in Wales will be told they can reopen from Monday, the first minister is expected to announce.
Mark Drakeford will set out further changes to the lockdown laws at a press conference on Friday.
Businesses will be expected to ensure two-metre social distancing is observed.
Other small changes may be announced, but the advice to stay local is likely to remain in place.
Shops in England have been trading since the start of the week.
But after that prompted queues outside retailers, Health Minister Vaughan Gething said he does not want to see large crowds outside reopened retailers.
The Welsh Government is expected to keep its cautious approach, and says its priority continues to be "keep Wales safe".
Earlier the Scottish Government announced that retailers there could reopen on 29 June.
At the daily Welsh Government press conference Mr Gething said he did not want to see a repeat "of crowds bunched together outside shops in complete breach of what social-distancing guidance is supposed to deliver".
Earlier in the week Mr Drakeford said reopening retail was one of a "package" of measures being looked at.
He said he was keen for the economy to reopen in Wales, but public health must come first "as that is the best way for our economy".
Currently people in Wales are only allowed to travel locally - with five miles given as a guide.
That is not expected to change on Friday. The rule has been criticised by Conservative politicians who say it unfairly harms people in rural areas.
Analysis by Felicity Evans, BBC Wales political editor
Reopening shops is a move that has been heavily trailed by ministers and they are keen to stress that caution remains their watchword.
The approach from the Welsh Government has been to announce one big thing in each review and then monitor its effect on the reproduction rate of the virus.
Recently though, they have started putting sectors "on notice" for reopening - shops next week, followed by schools the week after.
Perhaps this time there will be something for the tourism sector to look forward to?
Non-essential shops have been closed to the public in Wales since lockdown began in late March.
Welsh Conservative Senedd leader Paul Davies claimed the Welsh Government had "listened" to its calls to begin to reopen the Welsh economy.
"But while we welcome this announcement, it frankly beggars belief as to why travel restrictions are not being lifted too," he said.
"Many retailers need custom from a wide area to survive and will go to the wall if they are forced to rely on local trade alone."
Plaid Cymru health spokesman Rhun ap Iorwerth said the announcement did "not come as a surprise".
"Many people will be glad to see yet another element of easing restrictions," he said.
"However, we need to know not only which restrictions are being eased in the here and now but also which restrictions are expected to be lifted in the weeks and months ahead."