Coronavirus: Wales' travel restrictions set to end on 6 July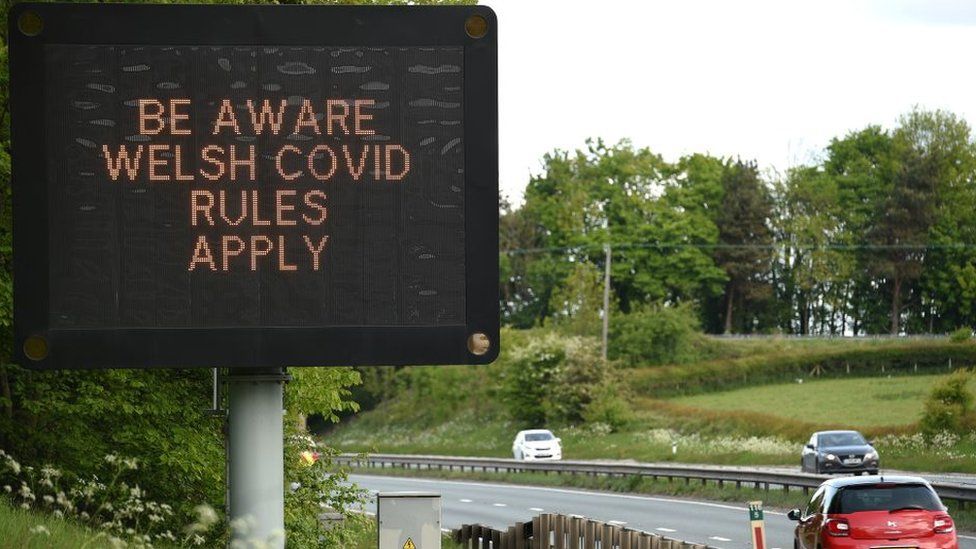 Wales' coronavirus travel restrictions could be lifted from 6 July so people can "travel as far as they like for all purposes," First Minister Mark Drakeford has said.
Travel into and around Wales will be possible from that date, as long as coronavirus is still under control.
But rules that require people to stay local, within five miles of their home as a guide, will stay for now.
It comes as Mr Drakeford announced major changes to lockdown laws.
From Monday, visits beyond people's local area on compassionate grounds, such as to family, care homes or young offender institutions, will be allowed.
Private prayer can take place in places of worship
Restrictions on outdoor sports courts will be lifted for non-contact sports
Non-professional elite athletes can resume training
House viewings in vacant properties and home moves will also be allowed, restarting the housing market.
But rules stating you can only meet one other household outdoors remain in place.
The Welsh Government has also signalled when the country's tourism sector can reopen - with trips to outdoor tourist attractions from 6 July - and bookings for self-contained accommodation can start to be made from 13 July.
Schools in Wales are also due to reopen on 29 June.
Both the Welsh Conservatives and Plaid Cymru called for the five-mile travel advice to be scrapped.
What about pubs and hairdressers?
It remains unclear when hairdressers, pubs, cafes and restaurants will be able to reopen.
But the Welsh government promised to look at "personal care services", including hairdressers and beauty salons, at the next review on 9 July.
Mr Drakeford told the daily Welsh government press conference that hairdressers should use the next three weeks to prepare for reopening by appointment only.
Discussions will be held with the hospitality sector about the potential phased reopening of pubs, cafes and restaurants.
"We are now making concerted steps to resume something approaching a new normal while living alongside coronavirus," Mr Drakeford told the press conference.
"This public health crisis is not yet over. Through all our efforts we have succeeded in bringing the fire of coronavirus under control but that fire is not out."
He said hospitality has not been given a date to reopen, while tourism has, because "there's only so much headroom we have".
When will households in Wales be able to form 'bubbles'?
In England, Scotland and Northern Ireland, single adults living alone - or single parents whose children are under 18 - can form a support bubble with one other household.
First Minister Mark Drakeford has said he is "keen" to allow for household bubbles in Wales and has promised to look at it at the start of "next week".
But in an interview with BBC Wales he said he would not wait an "artificial" period of time to make the announcement.
"We can announce it as soon as we think we have got everything in place," he said.
Why are the travel restrictions staying?
Speaking on BBC Radio Wales Breakfast, he asked people to do "one more lap" and observe the "stay local" message for two more weeks.
"It has really helped to bring the virus under control in Wales," he said.
"We need you to go on doing it, and if you do, then in two weeks we should be in a position where all this can be over."
The first minister said the stay local instruction "has really helped to bring the virus under control".
Later, Mr Drakeford said the five-mile rule would remain in place for two more weeks because "communities who have seen very few visitors will have to be prepared to see visitors again".
"Simple things like public toilets will need to be reopened in our visitor economy, car parks will need to be reopened, our national parks need time to prepare," he said.
Fines that have been used to enforce the "stay local" law will remain in place.
Conservative politicians had criticised the five-mile guidance as unfair on people from rural areas.
The Welsh government had been under pressure to allow for a reopening of the tourism sector for the summer.
The lifting of travel restrictions means that the "tourism economy will reopen in Wales" from 6 July, Mr Drakeford said, and advised the industry to spend the next three weeks to prepare to re-open self-contained accommodation in July.
The self-contained element was important because of the way coronavirus can spread, he argued.
"If you have a static caravan that has its own kitchen or bathroom, if you're renting a cottage or going to a hotel that has turned itself into self-contained accommodation, there will be a clear signal... that you should use the next three weeks to get everything you need in place, and you will be able to start taking bookings for after 13 July," the first minister added.
Latest figures showed Wales attracts 96m day-trippers every year - who spend about £4bn. That compares to 10m overnight visitors from Great Britain, worth £1.8bn.
What is the reaction from opposition parties?
The Welsh Conservatives claimed Mr Drakeford had "woken up" to the party's calls for "a safe and sensible approach to lifting the lockdown".
But Paul Davies, Senedd Tory leader, questioned why the five-mile guidance could not be lifted "now".
"Why wait until Monday to allow non-essential retail businesses to reopen when they were given notice to prepare three weeks ago," Mr Davies asked.
Plaid Cymru's Helen Mary Jones said the five mile advice "really should have gone".
"I know the first minister said the five-mile rule is just guidance but that's not how people are interpreting it," she said.
The Brexit Party leader in the Senedd Mark Reckless welcomed the "belated reduction" but said all the restrictions should be lifted, trusting "people's judgement".
Clothing retailer Primark said no shops will be reopening in Wales on Monday.
A spokesman said the store "will only re-open our stores in Wales once we are convinced that it is safe and right to do so".
But the South Wales Chamber of Commerce said the reopening of shops "will boost the economic re-start".
Huw Pendleton, vice chairman of the UK Holiday Parks Association, said he as delighted "we have some sort of date to aim for - which puts us on the same playing field as the other nations of the UK".
"We've lost four bank holidays, so we're never going to recover that lost ground, but at least we look like we'll get some of the summer holiday.
"The only criticism I would give is that it would have been great to have an indication of likely opening dates a bit earlier than we have had - to at least do what the other nations have done - they've had clarity a lot earlier than we have."