Coronavirus: Welsh workplace two-metre rule 'not absolute ban'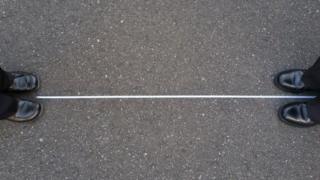 Rules requiring firms to allow two metres between employees will not be an absolute ban on working closer, the first minister has said.
Welsh companies will be required to practice social distancing under a new law.
But First Minister Mark Drakeford said firms will be expected to take "all reasonable measures" to ensure employees' health.
The law will come into force at midnight on Tuesday morning.
Mr Drakeford also told a press conference that Julie James, the Housing and Local Government Minister, would stand in as first minister if he was to become ill.
He wished Prime Minister Boris Johnson, who has been admitted to hospital with coronavirus, "a speedy recovery".
Asked if the PM should step aside from day-to-day duties while in hospital, Mr Drakeford said: "I am sure the prime minister will be following medical advice - if the advice is that he needs to change his working patterns, I'm sure he will do that".
Referring to the law that will require companies to practice social distancing, Mr Drakeford suggested the Welsh Government would not enforce the two-metre rule strictly.
"It's not an absolute ban on people not being able to be within two metres of one another," he said.
"We're used to it already because in the health service, for example, a dentist carrying out treatment on you isn't two metres away from you at that point, but they're only close to you when they need to be close to you.
"There's nothing new in the message - it's about saying to employers that you must take all reasonable measures to ensure that the safety and health of your workforce comes first."
Following his comments, the Welsh Government said "all reasonable measures" means workplaces will be expected to take "proportionate action" where possible to meet the two-metre rule.
Police and councils will have powers to enforce the rules.
At the press conference, however, Mr Drakeford said the best enforcers are the "workers themselves".
Part of the reason the decision was taken was because AMs and trade unions were getting "too many reports" of people "feeling that they weren't safe in the workplace and that everything that needed to be done, was not being done", he said.
Ifan Glyn, director of the Federation of Master Builders Cymru, said the press conference "muddied the waters no end".
"On Friday, it seemed that Wales was taking a tougher stance on this than England. However, it turns out that the opposite is the case," he claimed.
"If in England, you can't abide by the two metre rule, [the UK government] is telling you to stop working. In Wales, if you can't abide by the two metre rule, the Welsh Government is telling you that you can crack on as long as you have made 'reasonable' attempts to comply."
'Panic had set in'
But David Oxenham of Turner Precision, a firm in the aerospace sector which is now producing parts for ventilators, said Mr Drakeford's comments were reassuring.
He told Gareth Lewis on BBC Radio Wales "panic had set in" at the initial announcement - he said it was not possible to maintain a two-metre distance all the time at his company.
"It means we're going to be working on Wednesday, whereas I don't think we would have been [otherwise]," he said.
At the same press conference, Mark Drakeford said he expects the lockdown to continue beyond Easter in "a further period of restraint".
He said restrictions are beginning to affect the rates of infections, but "things will get worse before they get better".
The first minister called for all four parts of the UK to come together to review rules on tackling the virus in the coming weeks.