Coronavirus: Emergency law approved by slimmed-down Welsh Assembly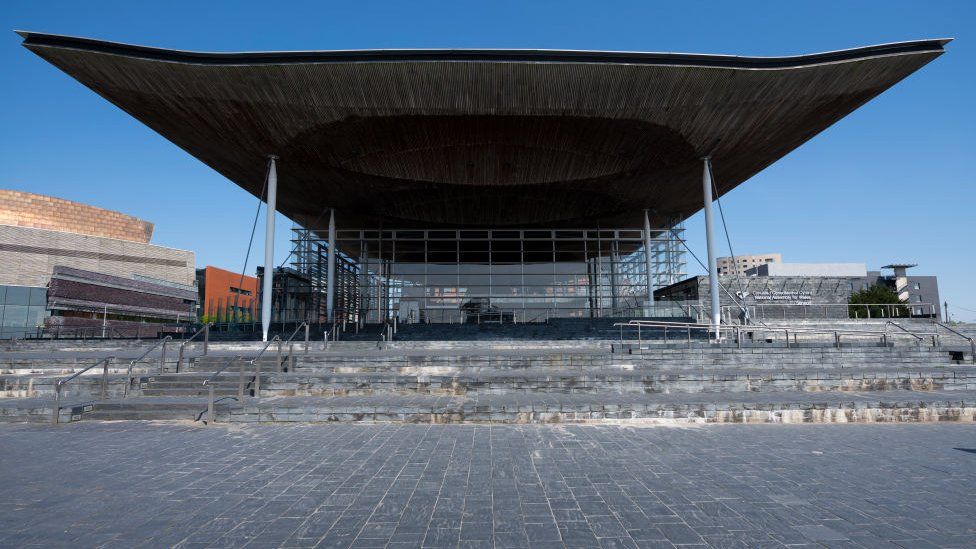 New legislation giving Welsh ministers sweeping powers to act on coronavirus are reasonable and proportionate, Wales' health minister has said.
Vaughan Gething said the law was needed "to protect life and the nation's public health".
The assembly gave its formal approval to the UK parliament bill on Tuesday, with only 15 AMs present.
Meanwhile the assembly's Presiding Officer Elin Jones has tested positive for coronavirus.
She confirmed the news in a statement on Twitter, saying she has mild-symptoms and was self-isolating. Deputy Presiding Officer Ann Jones chaired today's proceedings in Cardiff Bay.
AMs passed a motion giving their consent to the law without a vote. The bill is expected to be passed swiftly by parliament by Thursday.
Although there was no opposition expressed to the bill, AMs from across the political spectrum expressed unease at its scope and called for ministers to report regularly on the use of the powers.
Although it is UK legislation, the provisions for Wales mean AMs had to give their formal permission through a legislative consent motion.
The UK government has worked on the coronavirus legislation alongside the Welsh, Scottish and Northern Ireland administrations.
It provides sweeping measures, for up to two years, to help UK authorities tackle the coronavirus outbreak. It will need to be reviewed by Parliament every six months.
The new law would allow authorities to:
Take people into or keep them in quarantine, or direct a person to attend a designated place
Restrict or prohibit mass gatherings
Close premises
Vaughan Gething said the bill aims to ensure the action needed to tackle the virus can be carried out across all four nations.
"I ask members and the public for your continuing trust and support to take these new powers," he told the Senedd on Tuesday afternoon.
"I ask for that support to take action to save as many lives as possible here in Wales."
Welsh Conservative assembly leader Paul Davies backed the legislation, saying: "These are unprecedented times and they call for unprecedented action."
Labour AM Mick Antoniw was among those calling for checks and balance in the assembly. He said it was "right that these powers are taken", but called for "regular reporting" of the exercise of the powers by Welsh Government ministers.
Blaenau Gwent Labour AM Alun Davies said: "There must be proper oversight and supervision."
Plaid Cymru's Helen Mary Jones said the party would be supporting today's motion "with quite a heavy heart."
She asked if ministers could make a statement to a "mini-Senedd" each time the powers are used, to enable AMs to raise any concerns.
Brexit Party AM Caroline Jones asked for ministers to seek permission from the assembly if they decide to extend when powers in the bill expire.
Some of the law's provisions could be extended beyond the two year-period by six months.
Ms Jones said the powers were "open to abuse" and therefore should be renewed regularly.
But she said "far too many" people were ignoring warnings: "The only alternative is for the state to force compliance. We can't allow the actions of a few to put us all at risk."
Mr Gething said the Welsh Government will report to the assembly on the use of the powers.
"I think in reality we will be making public statements about the use of powers every time we use them," he said.
The law includes measures aimed at freeing up resources in public services.
Ministers will be able to instruct schools to close, or to remain open.
Powers will allow the redeployment of teachers to address shortages, remove standard ratios of staff-to-children requirements, and allow people to return more rapidly to the workplace.
In health and social care, the bill will allow ministers to state circumstances where DBS criminal record checks can be "disapplied".