Leanne Wood 'broke rules' with swear word tweet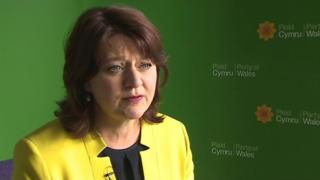 Plaid Cymru's Leanne Wood broke assembly rules when she used a swear word to criticise a blogger, a group of AMs has found.
The ruling by the assembly's standards committee has sparked a row, with her party refusing to support the punishment chosen for her.
Ms Wood said she was challenging "misogynistic bullying" - a charge the blogger denies.
Plaid's Adam Price said the ruling lacked context and perspective.
The decision was in response to an investigation by the AMs' standards commissioner Sir Roderick Evans, who said Ms Wood did not need to use such a "vulgar" term, and found she broke the code of conduct.
The cross-party committee agreed and recommended Ms Wood be censured - a form of official reprimand that has to be agreed by the assembly in a vote.
Ms Wood has refused to apologise and said she will not accept the reprimand.
"The Plaid Cymru group backs Leanne Wood and will oppose the censure," a spokesman said.
BBC Wales has been told Labour AMs are among those concerned at the ruling, with one calling it "risible".
"AMs really don't have to be angels and take all kinds of rubbish thrown at us," they said.
"How on earth can the commissioner describe this as vulgar language that warrants a censure?"
Another said: "In language that won't offend the standards commissioner, I will put it politely and say it is 'extraordinary' that he has chosen to reprimand Leanne - especially when you consider his view that Gareth Bennett's vile attack on Joyce Watson didn't warrant any action."
Sir Roderick's initial finding that a video by UKIP AM Mr Bennett about Labour's Ms Watson led to an outcry.
He did not believe it to be sexist. Mr Bennett was later banned from the Senedd for a week after Sir Roderick handed the matter over to another individual for investigation.
Ms Wood tweet came about after Royston Jones, a blogger who goes by the name Jac O' The North, criticised Delyth Jewell's confirmation as Plaid AM for South Wales East following the death of Steffan Lewis.
"Women's rights and international development. God help Plaid Cymru," Mr Jones said, referring to Ms Jewell's stated areas of interest.
Ms Wood quote-tweeted the message, sharing it with her followers and adding: "Do you have to be an arsehole all the time? Have a day off."
"As you know, I've never been an admirer of yours, but even so, this is disappointing," he responded.
Sir Roderick Evans began looking into the tweet following a complaint, which was not made by Mr Jones.
In her initial response, Ms Wood accused the Jac O' The North blog of running "disparaging comments about women and minorities as well as Plaid Cymru; which are seemingly his pet hates.
"I defend freedom of speech but there are limits to this and Jones frequently crosses the line and regularly writes untruths."
"I don't regret using the only type of language that someone like Jones understands. His tweet warranted a strong and direct response and I provided that," she said.
"There is grave danger in allowing such an anti-women, anti-equality landscape to go unchecked," she said.
Sir Roderick found the posting "could have been appropriately responded to and challenged in a number of ways, some of which were identified by the complainant".
"In my view, none of them required the use of a vulgar abusive term by an AM."
Once the investigation was completed, the matter fell to the standards committee to adjudicate.
In a report published Wednesday, it said: "The committee believes that in this instance it would be appropriate for the member concerned to recognise that the use of such language on a public platform is not appropriate and apologise to the assembly for bringing it into disrepute."
The AMs added they would "benefit from having a wider range of sanctions available".
"For example, it may have been appropriate in this instance to require the member to attend training on how to deal with abuse online."
Ms Wood was also found to have breached the assembly's dignity and respect policy.
Mr Jones told BBC Wales there had been "nothing 'misogynistic' in that tweet. I am not a misogynist. But there are too many who use the term to close down debate."
He said he had been "making the point that a new AM should have more inclusive interests than 'women's rights' and a matter beyond [the assembly]."
"I note that in her statement Wood accuses me of writing 'untruths'. Can she provide examples? What I suspect she means is, I write things she disagrees with."