Theresa May review 'to look at boosting Wales Office'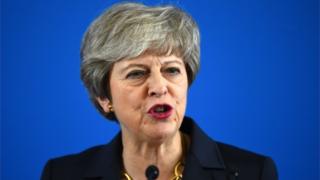 A review is to examine whether the UK government's Wales Office should be beefed-up, BBC Wales has been told.
Prime Minister Theresa May stressed the importance of the Union in a speech in Scotland.
Addressing an audience in Stirling, she announced a review into how UK departments deal with devolution.
Whether the Wales Office - which has limited powers - should have a stronger role in setting UK government policy on Wales is expected to be on its agenda.
But Wales' First Minister Mark Drakeford warned "the very last thing we need is an outbreak of colonialism".
The Wales Office was created at the start of devolution 20 years ago and is led by Welsh Secretary Alun Cairns.
Its powers are much smaller than the Welsh Government, which controls matters such as health and education.
It works with UK government departments to ensure Wales' interests are fully represented.
Mrs May said: "There have been several reviews into how devolution works.
"But we have never thought deeply about how we make the Union work - how we ensure that as we fully respect devolution, we do not forget the UK government's fundamental duty to be a government for the whole United Kingdom of Great Britain and Northern Ireland."
The prime minister confirmed former Scotland Office minister Lord Dunlop would lead a review "into the structures of the UK government to ensure that they are set up to realise fully all the benefits of being a United Kingdom".
It could mean Whitehall departments working more closely with the Wales Office.
But a source stressed it was not about the UK government taking action on matters devolved to the Welsh Government and the assembly.
Before Mrs May's speech, Mr Cairns said the UK government wanted to "strengthen" its relationship with businesses in Wales, post-Brexit.
He said the UK government was not "competing" with the Welsh Government, but it was important they were "working closely" together.
"It's about ensuring businesses and communities in Wales are playing their full part so that the Union serves every part and every part serves the Union," he said.
"This is about ensuring that whether you're in Carmarthenshire or in Wrexham or the Llyn peninsula that the UK government understands your priorities and can attract investment according to your priorities."
Mrs May said devolution had been a source of strength for the UK, not a sign of weakness.
Strengthening the Union must continue to be a top priority for the next prime minister, she said, and it would be for her successor to respond to Lord Dunlop's recommendations.
She said both Tory leadership contenders, Boris Johnson and Jeremy Hunt, were "supportive of the review".
The contest to replace her is due to end on 23 July.
Mr Drakeford said Mrs May's government was "very late in the day in coming to a serious discussion about the future of the United Kingdom".
He added: "The Welsh Government, and working with the Scottish Government, have come forward with a series of practical proposals to show how the United Kingdom can go on operating successfully the other side of the European Union.
"That certainly does not involve trying to strengthen the organs of central government here in Wales or elsewhere in UK."