Welsh Youth Parliament holds joint session with AMs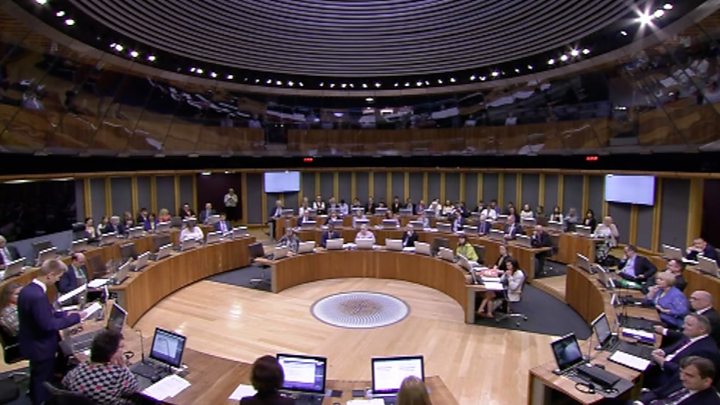 The first joint session of the Welsh Assembly and Welsh Youth Parliament has been held at the Senedd.
AMs voted unanimously to support the Welsh Youth Parliament's work, noting its commitment to work together on behalf of the young people of Wales.
The youth parliament will focus on mental health, life skills in the school curriculum, littering and plastic waste.
Assembly Presiding Officer Elin Jones said that it was a "real landmark day".
The youth parliament of 60 young people, 40 elected in an online ballot and the rest from organisations and charities, met for the first time in February.
Its members are aged between 11 and 18 and will serve a two-year term.
They spoke to BBC Wales about the youth parliament, and their hopes and ambitions for the future.
Jonathan Powell - Wrexham member
"The reason I wanted to be part of the Welsh Youth Parliament is because young people in Wales deserve a voice.
"There are so many young people who felt under-represented, especially in such a time of turmoil in politics. It provides hope that young people can get together and debate their ideas, their concerns, without being rowdy and shouting, and really get something done and make a change. "
Casey-Jane Bishop, member for Barnardo's Cymru
"I want to talk about mental health and young people and equality and rights. They are my main issues.
"Also, anti-bullying is a big one for me. And I'm very excited to be creating history today."
Todd Murray, Bridgend
"We're in the middle of a climate crisis - I have been going to the climate strikes over the past few months because I believe that the Welsh Government and the UK government need to do a lot more to help us navigate our way through this.
"It's a real problem and it affects everyone. It's our future and we really need something done about it.
"We are trying to get plastic waste reduced. In my constituency we're looking into making one of our towns a plastic free community."
Angel Ezeadum, Race Council Cymru
I think this is just one example of how seriously the politicians are taking this. I believe in the future we are going to see more and more young people on this type of platform, speaking and raising awareness of these type of issues.
Lleucu Haf Wiliam, Vale of Glamorgan
"It will be an incredible experience.
"This hasn't happened before and it's great to meet everyone and understand their views on what's happening."