Neil McEvoy: Plaid Cymru membership bid delayed after leak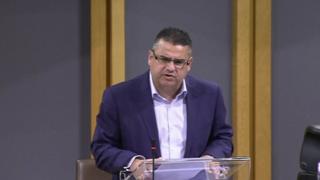 A disciplinary panel tasked with deciding whether Neil McEvoy should be re-admitted to Plaid Cymru has recommended the panel be disbanded after its work leaked to the press.
Earlier this week it was revealed the panel would hold a second meeting after failing to reach a decision.
A spokesman for Fflur Jones, the panel's chairwoman, said it regretted "two instances of unauthorised disclosure".
Mr McEvoy has been asked to comment.
The move, which needs to be signed-off by Plaid Cymru's ruling National Executive Committee (NEC), means the process will be delayed and new members of the panel sought.
A report in the Western Mail earlier this week said the panel, known as the Membership, Discipline and Standards Committee, was evenly split, but a Plaid Cymru source told BBC Wales it was possible the meeting simply "ran out of time".
It is understood the panel is looking at Mr McEvoy's behaviour during his expulsion from the party while he has been sitting as an independent AM.
The spokesman said: "We regret two instances of unauthorised disclosure of information that have occurred in respect of Mr Neil McEvoy's application to re-join the party".
He added: "At the request of the chair of the Membership, Discipline and Standards Committee, the NEC is invited to disband the committee and appoint new members to the committee who would be able to deal with the application afresh."
'Real progress'
A source close to Neil McEvoy claimed "real progress is being made towards Neil's return" and "bridges are being built".
"It is regrettable that people have leaked information for political ends, when Neil has respected the confidentiality of the process throughout," the source added.
Plaid expelled Mr McEvoy over alleged disruptive behaviour at a party conference in 2017. He had already been thrown out of the party's group in the assembly.
If he is readmitted to the party, Plaid AMs will decide separately whether to allow him back into their assembly group.