Brexit: Mark Drakeford's Brussels car row change of heart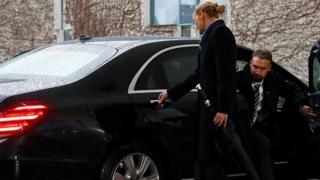 UK and Welsh ministers have been involved in a diplomatic spat over the use of UK government cars in Brussels.
Initially diplomatic support for the first minister's Brussels visit was made conditional on Mark Drakeford not undermining UK government policy.
The Foreign Office said it had to be certain its resources overseas were focused on UK government's objectives.
It emerged later car use was eventually offered, but Mr Drakeford used public transport for Wednesday's trip.
Welsh Health Minister Vaughan Gething had called the withdrawal of the support "utterly pathetic".
Mr Drakeford met the EU's chief Brexit negotiator Michel Barnier and the European Parliament's Secretary General Klaus Welle as part of his first visit to Brussels as first minister.
In the 2016 referendum, 52.5% of people in Wales voted to leave the EU, with 47.5% voting to remain.
The Welsh Government has a different Brexit stance to the current UK government led by Theresa May and the Conservative contenders to succeed her as Tory leader and prime minister.
The Foreign Office usually takes a relaxed view on providing diplomatic support for such visits, with Welsh Government ministers and officials having unconditional use of any spare cars in the UK government's fleet.
But a Welsh Government spokesperson said the Foreign Office had said it would only provide support in Brussels for this trip "if we give assurances that the first minister will not undermine UK government policy".
"We have made it clear that the first minister and Welsh ministers take seriously their duties to the United Kingdom when abroad on official business and not out of deference to the UK government - and still less in return for access to car hire services.
"We refused to give any assurance that would fetter or inhibit the right of the first minister to speak up for Wales' national interests."
A former Welsh Government minister said: "Whilst it's always been the case that Welsh ministers have never gone to Brussels to undermine the position of the UK government, it's been accepted by everybody that the Welsh Government is entitled to put its view, even if that's different."
Commenting on Twitter, Mr Gething said the decision was "utterly pathetic political censorship that can only have been authorised by a UK minister".
But Brexit Party assembly group leader Mark Reckless asked: "Why on earth should UK government pay for [Mark Drakeford] to go round Brussels lobbying against UK government and vote of UK and Welsh people to Leave [the EU]?"
Plaid Cymru MP Jonathan Edwards raised the issue with Commons speaker John Bercow, saying he was outraged "at the complete lack of respect shown to the government of my country by the British government".
Mr Bercow replied: "I can recall no occasion in my occupancy of the chair in which such a concern has had to be aired, so it is indeed a most significant matter and I am taken aback by what the honourable gentleman has in advance reported to me and now raised orally on the floor of the house."
Earlier, a Foreign Office spokesperson said: "The UK government's extensive network of diplomatic staff regularly provide support to the UK's devolved administrations for visits relating to areas for which they have a devolved responsibility.
"However a balance must be struck to avoid supporting activities intended to campaign for policies contrary to Her Majesty's Government's position."
Quizzed on the row in the assembly on Wednesday afternoon, Welsh Government Brexit minister Jeremy Miles clarified that the Foreign Office did "ultimately" offer car facilities after the Welsh Government "refused to give any assurance that would fetter or inhibit the entitlement of the first minister to speak up for Wales' national interests".
Jeremy Miles AM added: "But the first minister is travelling using public transport throughout his visit to Brussels today."
Conservative AM Darren Millar said: "I do find it astonishing that Welsh Labour ministers seem to be more interested in chauffeur-driven cars than they do in the real issue of the day.
"I'm sure that the Welsh Government would not want to allow its resources to be used to support activities which undermine its policy objectives either.
"Ministers, frankly, should grow-up and listen up to the people of Wales who voted to leave the EU in 2016," he added.
'Just the start'
After the meeting, Mr Drakeford urged backbench MPs to go further in their attempts to prevent the UK leaving the European without an agreed deal with the bloc by forcing UK ministers to begin the legal process paving the way for another EU referendum.
It came as a Labour-led motion in Parliament to try to stop a future prime minister pushing a no-deal Brexit through was rejected by MPs by 309 votes to 298.
Shadow Brexit Secretary Keir Starmer said it was "just the start, not the end of our efforts to block no deal".
Mr Drakeford said that, in his discussions with Mr Barnier, he had asked the EU to allow "sufficient time to hold a referendum, in which the Welsh Government would do all we can to make sure the UK votes to a remain within the EU."