Flight tax might not be cut if devolved, minister Ken Skates says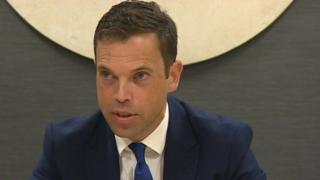 Flight tax would only be cut in Wales if it encouraged passengers to fly from Cardiff instead of driving to other airports, a Welsh minister has said.
Ken Skates said increased carbon emissions from more flights would have to be "offset" by shorter car journeys.
It follows a report by MPs backing calls for air passenger duty (APD) to be fully devolved to Wales by 2021.
The Welsh Affairs Committee report said the powers should be used carefully because of environmental concerns.
Ministers in Cardiff want control of Air Passenger Duty (APD) and have said a tax cut would help Cardiff Airport, which is owned by the Welsh Government.
But the committee said in its report it sensed a "subtle change" in Welsh ministers' policy.
It said that, whereas the Welsh Government previously said it would cut or abolish APD, Finance Minister Rebecca Evans sounded more cautious in her evidence to the committee, saying "environmental impact assessments" would be needed before Welsh ministers could confirm whether the duty would be abolished or reduced.
APD has been fully or partially devolved to Scotland and Northern Ireland, but the Scottish Government dropped plans to cut APD after declaring a climate emergency. The Welsh Government itself has also declared a climate emergency.
Mr Skates's comments on Tuesday, when the Welsh Government also pledged 95% cut in greenhouse gas emissions by 2030, marked a change in tone from former first minister Carwyn Jones, who said he would like to scrap the tax on long-haul flights.
Briefing journalists, Mr Skates said the government "agreed entirely" that the tax, which raises about £6m a year in Wales, should be devolved saying "it would certainly make Cardiff far more competitive".
But he added: "We would have to judge whether increasing or decreasing rates of APD would be driving or attracting more users to Cardiff airport and whether that in turn would lead to lower carbon emissions on our roadways."
He repeated a call for the UK government to allow more tax-exempt flights from Cardiff to London and Manchester. Welsh ministers want to the exempt the flights from air passenger duty, but they need the European Commission's permission and that has to be requested by the UK government.
The report by MPs was welcomed by Cardiff Airport, which has said a tax cut would boost its passenger numbers by up to 600,000 by 2025.
Chief executive Deb Barber said: "the committee agree with the strength of the compelling case to devolve APD without adversely affecting English airports".
"Devolution allows the Welsh Government the discretion to set levels appropriately for Wales and must be balanced with environmental considerations - there is certainly an opportunity to reduce the need for long car journeys to and from English airports by increasing flight options to and from the region," she said.
Bristol Airport chief executive Dave Lees previously told the MPs such a move would give Cardiff an unfair advantage.
After hearing conflicting evidence from Cardiff's nearest - and much bigger - competitor, MPs were "not persuaded" Bristol would "suffer significant and lasting damage" if APD were devolved.
Committee chairman David Davies, Conservative MP for Monmouth, said: "I'm not often persuaded by arguments for devolution, but the evidence my committee heard about the benefits of devolving APD was absolutely convincing."
A spokesperson for the UK Treasury said it would respond to the report "in due course, taking into account the best interests of consumers and businesses".