Theresa May at her worst during Brexit speech - Mark Drakeford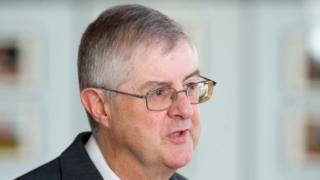 Wales' first minister has said Theresa May was "at her worst" during her speech blaming the Brexit delay on MPs.
The prime minister told the nation on Wednesday she was "on their side" and said people were "tired of infighting and political games".
Mrs May has agreed with the other 27 countries of the EU to delay the UK's departure beyond 29 March.
Mark Drakeford said the UK's approach to Brexit had "fallen apart" in her hands.
He later wrote to the prime minister, urging her "at this moment of real crisis to put country before party", calling on Mrs May to drop her red lines, hold talks with opposition parties and rewrite the Political Declaration, which sets out the framework for the UK's future relationship with the EU.
The prime minister was forced to ask for a postponement after MPs twice rejected the withdrawal deal she has negotiated and also voted to reject a no-deal departure.
Foreign Secretary Jeremy Hunt defended the prime minister's Wednesday night statement, saying Mrs May was under "extraordinary pressure", and "the choice that we have now is one of resolving this issue or extreme unpredictability".
As Brexit uncertainty continued, it emerged political parties in Wales were preparing for European elections.
Speaking on BBC Radio Wales, Mr Drakeford said: "I watched her broadcast last night and my feeling was that this was her at her worst: Rigid, blaming other people, failing to take responsibility and appealing to the nation on the basis that there was only one point of view.
"In the end the prime minister is the person who has led and has been determined to lead the UK on Brexit.
"In the end it has fallen apart in her hands despite all the warnings that were given."
But Welsh Secretary Alun Cairns said Labour at Westminster should consider its own responsibilities.
"If Labour MPs respect the referendum result, they should support the Withdrawal Agreement," he said.
"It's a matter for them to make the case about what they want from the future relationship [with the EU] thereafter."
Aberconwy Conservative MP Guto Bebb, who supported Remain in the 2016 referendum, said Mrs May's message from Downing had been "shameful".
He told BBC Radio Cymru MPs face "constant threats, and she knows that" and the prime minister was trying to blame MPs "for her own failings".
"She has made it more difficult to get her deal through Parliament," said Mr Bebb, who believes the only way to get her deal through Parliament is to offer a referendum on it.
Welsh Labour MP Stephen Doughty called Mrs May's speech "divisive" at a time when there was "a very ugly atmosphere".
The Cardiff South and Penarth MP said: "I think in a climate where there are threats being made on a daily basis to MPs, particularly women, particularly those from a Jewish or Muslim background, gay MPs or others, and some very serious threats, I thought it was completely irresponsible."
Mr Doughty said he had been subjected to abuse and the prime minister had to think carefully about the "tone and language she was using and whether that was bringing the country together or pulling people farther apart".
Carmarthen West and South Pembrokeshire Tory MP Simon Hart warned the next eight days would be difficult.
"This was always going to and still will go to one minute to midnight, this will not be resolved probably until next Thursday or Friday so anybody who thinks it's going to be a nice comfortable conclusion early next week no, this will go absolutely to the wire," he said.
Wayne David, the Labour MP for Caerphilly, said he would be prepared to allow the prime minister's Brexit deal to pass providing it was subject to a referendum. He did not specify if he would vote for the deal or abstain but said Remain should be an option in such a public vote.
Pro-Brexit Clwyd West MP David Jones disagreed, saying: "If we start telling the British people that they got it wrong and another referendum was needed, that would be disastrous for democracy."
He said MPs were "out of tune with the bulk of the people" and had a duty to deliver Brexit.
'Synthetic outrage'
Reacting to the prime minister's address, one Conservative MP told BBC Wales: "She is right that the deal is the only show in town and needs to be passed. But to blame MPs is a bit rich since she has indulged ERG [European Research Group] fantasies at every stage."
He added that in a worst-case scenario the prime minister could be gone in a fortnight.
Another Conservative MP said his colleagues in the Commons had been guilty of "self-indulgence, synthetic outrage and mock sincerity".