Tributes as Newport West Labour MP Paul Flynn dies aged 84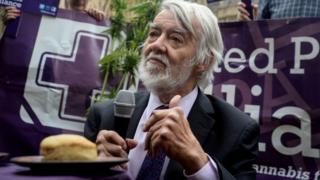 Tributes have poured in for veteran Labour MP Paul Flynn who has died, aged 84, after a long illness.
Mr Flynn represented Newport West since 1987 when he was first elected.
Labour leader Jeremy Corbyn described him as an independent thinker who was a credit to the party, while Wales' First Minister Mark Drakeford said he was a "giant of the Welsh Labour movement".
Newport West Labour Party confirmed in a tweet that Mr Flynn died on Sunday, saying he was "a hero to many of us".
Mr Flynn announced in October he would step down from Parliament "as soon as possible" after becoming confined to bed because of rheumatoid arthritis.
Welsh Labour leader Mr Drakeford said: "He was one of the most effective communicators of his generation - inside the House of Commons and outside.
"But it was Paul's willingness to speak up for causes beyond the political mainstream which marked him out as a politician of real courage and integrity."
Mr Drakeford said it had been "a privilege to have worked with him, in the run-up to the devolution era and beyond".
Announcing his intention to quit politics, Mr Flynn said he was very frustrated not to be taking an active role after three decades.
He campaigned on a wide-range of issues, including benefits, animal welfare and devolution.
A campaigner for cannabis to be legalised for medicinal use, in 2017 Mr Flynn called for users to come to Parliament to break the law.
Upheaval in the Labour party under Jeremy Corbyn's leadership saw the career backbencher briefly serve on the opposition front bench in 2016.
Mr Corbyn said: "I'm very sad at the passing of my good friend Paul Flynn. He had such love for Newport, knowledge of radical South Wales history and a dry wit.
"He was an independent thinker who was a credit to the Labour Party. He will be greatly missed."
Deputy Labour leader Tom Watson said Mr Flynn was "one of the great characters in politics", adding that he was "loved and revered by many".
House of Commons Speaker John Bercow opened proceedings on Monday by paying tribute to Mr Flynn.
"Paul was a standing rebuke to those who thought it was vital always to be in the closest possible regulatory alignment with one's whips office," he said. "It wasn't."
"He spoke his mind, he did it his way. He did it with eloquence, with knowledge, with character, and often - as we all know - with mordant wit."
Jayne Bryant, the Welsh Assembly member for Mr Flynn's Newport West constituency, first met the MP when she was nine years old.
"He brought politics alive to me then and has done so ever since," she said.
"Respected across the political divide with his wonderful turn of phrase, witty comments and incisive mind - undoubtedly, Paul spoke truth to power."
She told BBC Radio Wales: "He absolutely loved Newport. He was so proud to represent his constituency.
"He really, really cared for people and I think that sometimes gets lost in politics."
Conservative Welsh Secretary Alun Cairns said Mr Flynn was an "exceptional constituency MP", and said it was a "privilege to work with him".
Mr Flynn's party colleagues paid tribute to him on Twitter when the news broke late on Sunday night.
Cardiff West MP Kevin Brennan said Mr Flynn was a "passionate pursuer of justice for the least well off".
He added: "He was a wonderful man who made a huge contribution to Welsh politics."
'One of the Welsh language's giants'
By Vaughan Roderick, BBC Welsh affairs editor
The Welsh language's history in Cardiff has been a long and continuous one, but over the years there have been high and low points.
Without doubt the low point came during the middle of the last century. There were thousands of Welsh speakers in the capital, but the language was invisible and the schools more likely to celebrate Empire Day than St David's Day.
How likely was it then that a young boy from a poor Catholic family would fall in love with the language? That is exactly what happened to Paul Flynn.
Paul was a socialist, a republican, and a hard working peace campaigner, but the fight for Welsh-medium education in Gwent was what drew him into the political world.
He thought of himself as a nationalist and Paul was convinced that there was no way to change Wales until the Labour Party changed its attitude towards Welsh nationhood and the language. That battle to begin with was a very lonely one, but over time it was one that he, and others, won.
If you want proof of this go to the Dyffryn estate in the constituency. Here you can see the brand new buildings of Ysgol Gyfun Gwent Is Coed, Newport's first Welsh language secondary school.
Ysgol Gwent Is Coed in reality is Ysgol Paul Flynn. Newport and the Welsh language has lost one of its giants.
Originally published at Cymru Fyw
Tory MP Bernard Jenkin, chair of the Public Administration and Constitutional Affairs Committee, said he was often the committee's "conscience", "dedicated to exposing bad practice, poor values, conflicts of interest; tenaciously principled, and a great parliamentarian, who never feared making his inconvenient point".
Jo Stevens, the Cardiff Central Labour MP, said Mr Flynn was a "kind, principled, fascinating man who was devoted to his constituents".
Former MP and current Cardiff North AM Julie Morgan, said it was a "very, very sad day".
She added: "It's a terrible loss, and a terrible personal loss, as I looked on Paul as a very close friend.
"Paul was an absolutely unique character. You could never put him into a box - you could never anticipate what he would say."
Monmouth MP David Davies said he used to grill Mr Flynn as a youngster when he visited his school in Newport.
"One day he said if I felt that way I should go off and become a Tory MP," Mr Davies said. "He used to joke saying it was his fault that he inflicted a Conservative on Monmouth years later."
Plaid Cymru leader and former MP Adam Price said he was a "model Welsh MP: serious without being self-important, a conviction politician who never lost his humour, a towering figure in the Commons whose foundation was always Wales".