Drakeford defends economy in First Minister's Questions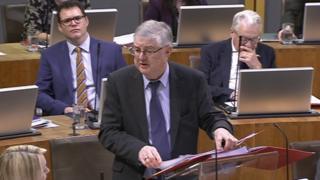 Mark Drakeford has defended Labour's management of the Welsh economy, as he was quizzed by AMs for the first time since becoming Wales' first minister.
Plaid Cymru leader Adam Price said the World Bank ranked Wales 23rd out of 36 countries in the international economic body the OECD, while Ireland was fifth.
Mr Drakeford said Ireland had attracted "shell headquarter companies" that appeared to improve its performance.
Disposable incomes in Ireland were lower than in Wales, he added.
Mr Drakeford's government announced last week it had asked the OECD to review Welsh economic strategy.
On Tuesday, Mr Price told the new first minister Wales had "slipped from 74% of the UK average for income per head to 72.5%" in the two decades since the Welsh Assembly was created.
"That's one of the worst figures recorded by any UK nation or region," said Mr Price.
"Labour were in power for half that time at Westminster and in power here in Wales for all of the time. And yet the devolution dividend in economic terms has been negative.
"So what explanation do you think the OECD will give for Ireland's success and Wales' relative failure, other than the fact that they're an independent nation and we're not?"
Mr Drakeford said under Labour Welsh Government's "employment in Wales has risen further and faster than in the United Kingdom, unemployment has fallen further and faster than the rest of the United Kingdom" and "economic inactivity has fallen further and faster than in other parts of the United Kingdom".
He added: "I've no doubt that when OECD comes to do the work that we've asked it to do that there will be lessons that we will be able to draw from other parts of Europe.
"No doubt, when they look at the Irish example, they will shine a light on the way that Ireland has been able to attract shell headquarter companies to be located in Ireland in a way that appears to contribute to their economic well-being, but leaves them with disposable incomes below that here in Wales."
Later in First Minister's Question's the Conservative leader in the assembly, Paul Davies, attacked Labour's performance on the Welsh NHS.
He said: "Our health boards are facing a deficit of £360m. Our A&E waiting times have not been met since implementation in 2009. Patients are routinely waiting longer than one year for vital surgery."
He urged the first minister to match any extra cash the UK government spent on the health service in England.
'Bear garden'
Mr Drakeford said the Welsh Government was spending proportionately higher than the additional funding announced by the UK government for England.
He said: "It's why the rise in investment in the Welsh NHS last year at 3.5% was the highest of all four UK nations. We are doing better on investment.
"We are doing far better than the English plan on integration of health and social care-there was barely a mention of social care in the 10-year plan that was announced for England this week."
Earlier, Mr Drakeford admitted he would feel nervous before his inaugural First Minister's Questions.
"If you didn't have a bit of nerves about it you wouldn't be doing the job in the right way," he said.
"I don't particularly like that sort of bear garden atmosphere or way of doing politics."
Mr Drakeford became first minister after beating Vaughan Gething and Eluned Morgan to win his party's leadership election in December.