Labour's Carwyn Jones bows out as Welsh first minister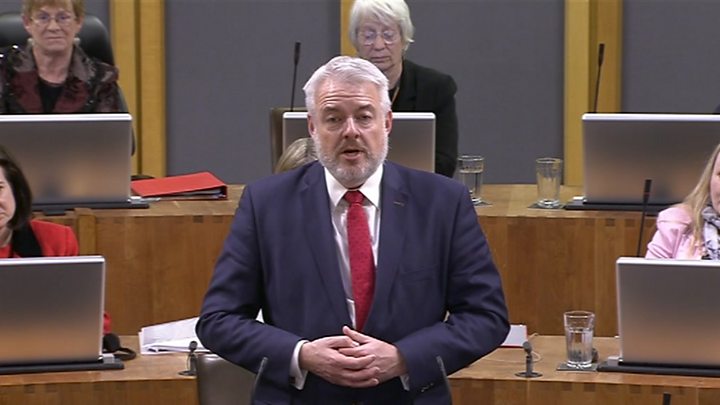 Carwyn Jones received a standing ovation from AMs as he bowed out as Wales' first minister on Tuesday.
Mr Jones said it had been an honour to lead his party for nine years.
The AM for Alyn and Deeside Jack Sargeant, the son of Carl Sargeant who was found dead days after Mr Jones fired him last year, remained seated during the standing ovation.
Welsh Labour's leader-elect Mark Drakeford is expected to be installed as first minister on Wednesday.
Carl Sargeant was facing allegations of inappropriate behaviour with women when Mr Jones sacked him from his government in November 2017.
In a resignation statement to AMs which did not mention the death of his former minister, Mr Jones said: "It was a privilege to follow my friend and mentor Rhodri Morgan.
"It has been a huge privilege to serve Wales in this job, and to be at the helm in a time of great challenge, a crucial time in our nation's history."
Outlining what he saw as his government's achievements, he said: "There are 118 new schools in Wales, and a further 41 under construction in every corner of Wales. The children in those schools are getting more and more top grades."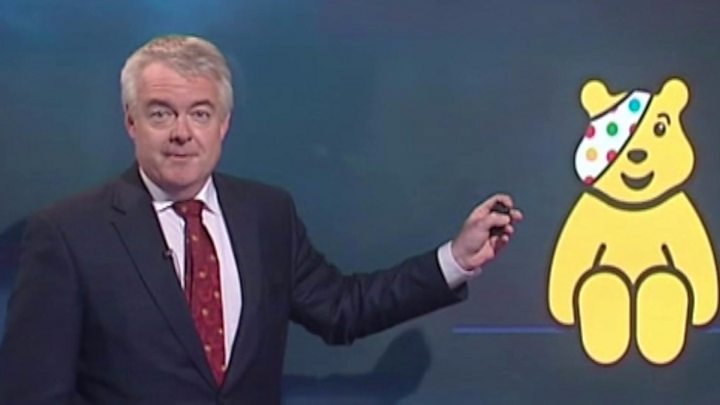 He boasted of record inward investment and said more people are surviving cancer than ever before.
Mr Jones thanked his family and said his successor Mark Drakeford, who won the Welsh Labour leadership contest last week, "is someone who can effortlessly match both principles and pragmatism".
"I have no doubt at all that he will make a superb First Minister of Wales", he said.
As well as Mr Sargeant, independent AMs Neil McEvoy and Mandy Jones also did not stand to applaud the first minister.
But opposition leaders lined up to give warm tributes.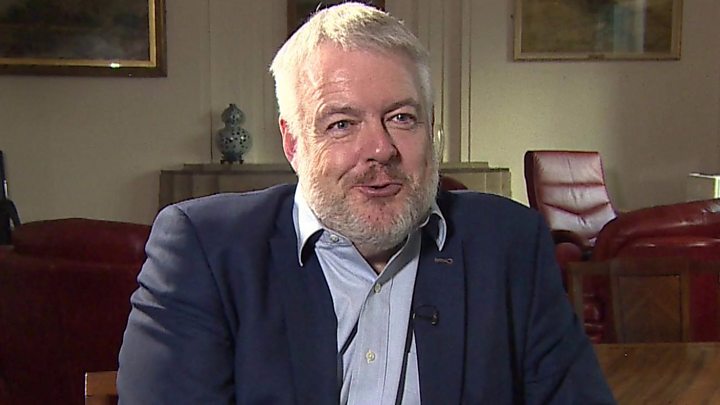 Paul Davies, the leader of the Conservative group, said he and Carwyn Jones had "clashed" on many occasions but added: "There is more that unites us than divides us."
"I know you will continue to play an active role in Welsh politics in this place and beyond that as well, and I know that public service is in your veins," he told Mr Jones.
"You have overseen a very wide brief with masterly composure," said Plaid Cymru's Adam Price.
"I for one have found you a tough opponent to disrupt."
The UKIP group leader Gareth Bennett said: "We have had our political differences but I always felt that there no personal acrimony between us".
The only speaker to explicitly refer to the events of the last year was Plaid Cymru's former leader Leanne Wood.
She said: "I know that this last year has been very difficult for you personally, and for others around you, and I know from my own experience how life in the public eye can impact on those closest to us, even when we seek to protect them from that.
"That aspect of the job is probably the least easy, so I hope that after today you will have more time to devote to spending with those people who are close to you and who you love."
The tributes followed Mr Jones' final First Minister's Questions in the Senedd.
While many contributors to the weekly scrutiny session avoided criticising Mr Jones' record, during FMQs Mr Price asked if he regretted that child poverty under his tenure had increased.
Mr Jones said there is a limit to what the Welsh Government could do.
"That's why it's all important that we have a Labour Government throughout the whole of the United Kingdom to take action," he said.
Gareth Bennett asked what Mr Jones' government could have done better. The AM for Bridgend said the one challenge left is local government.
Attempts to merge councils, or enforce collaboration, have not come to fruition.