Carwyn Jones will not take M4 relief road decision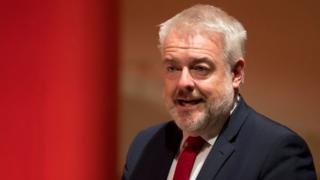 A decision on whether to grant the M4 relief road the equivalent of planning permission will not be taken by Carwyn Jones.
The first minister had planned, before his resignation next Tuesday, to issue the orders that would allow the new motorway south of Newport to be built.
He said the need for "robust due diligence" on issues such as habitats meant he had not done so.
Mr Jones said a decision was now likely be taken "sometime in the New Year".
The issue will now be top of the in-tray for Mark Drakeford, who is set to take over from Mr Jones as first minister next Wednesday.
Mr Drakeford won the Welsh Labour leadership contest on Wednesday.
It had already been confirmed that a planned Senedd vote on the road would not take place until the new FM is in post.
In a written statement issued to AMs, the outgoing first minister said there were two potential steps in building the road - granting orders, and awarding contracts.
He said the granting of orders must be made on the basis of evidence submitted to the recent public inquiry, and the inquiry report.
For the orders to be issued "comprehensive advice needs to be presented to and considered by ministers for each of these before a decision on whether to make the statutory orders".
"The orders decision must also be informed by a number of related decisions including consideration of potential impacts on protected habitats, allotments and common land," Mr Jones said.
"Due to the need for thorough and robust due diligence on all these points, a decision on the orders has not yet been made.
"That orders decision will not now be taken by me, but will be made following the appointment of the new First Minister, likely to be sometime in the new year," he wrote.