Mark Drakeford: 'I want cabinet to think long term'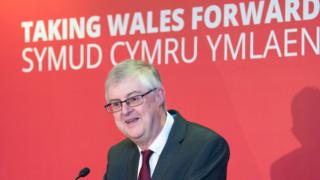 Mark Drakeford will start drawing up a new-look government after being elected to become next Welsh Labour leader.
However, he will not appoint any ministers until he takes the reins as first minister when Carwyn Jones resigns next week.
Mr Drakeford, the finance secretary, said he wants to change the way the cabinet works, allowing more time to consider long-term challenges.
"I want to lead a team in government," he said.
AMs will be invited to nominate him in the Senedd next Wednesday when the Welsh Conservatives and Plaid Cymru will also put their leaders forward.
Asked what would be different about his leadership, Mr Drakeford said: "There will be changes, of course, after a long time with Carwyn Jones as leader.
"I want to change the way the cabinet is run.
"I want the cabinet to have more time to think about the long term. Usually, the cabinet come together once a week, we concentrate on what is in front of us right now.
"I want to create opportunities for the cabinet and others outside the government to come together and to think about the things that will happen in Wales not this week, not this month, but some time in the next year."
One of the biggest decisions facing his administration could be over whether to build the M4 relief road around Newport.
Asked where he stood on it, Mr Drakeford said he would wait to see the legal and technical advice being prepared for ministers.
His two opponents in the leadership contest, Vaughan Gething and Eluned Morgan, called for a second referendum on Brexit.
But Mr Drakeford said there should be a general election first.
He said he would "speak up for the sort of Brexit that meets the needs of people here in Wales".
"People in Wales voted to leave and as a Welsh Government we've always respected that," he said.
Analysis
By Daniel Davies, BBC Wales political correspondent
Given that so many Labour AMs backed him, it won't be easy for Mark Drakeford to sack people.
During the campaign, he said he would - "without a doubt" - offer jobs to his opponents Vaughan Gething and Eluned Morgan.
He also said he would appoint a cabinet secretary for housing.
There is speculation Local Government Secretary Alun Davies could be on his way out.
And could there be a return for Jane Hutt, his friend and ally who was at Mr Drakeford's side throughout the leadership campaign?
He has at least one vacancy to fill - his own, as finance secretary.