A Welsh Labour victory that is no surprise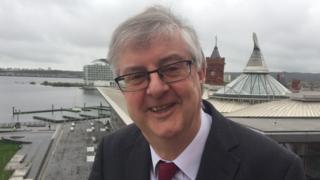 Mark Drakeford was always the front runner, but this result is closer than many people expected. He had the bulk of the support from Labour's big institutions, including Corbyn-supporting faction momentum - which has swelled the ranks of Welsh Labour members in the last couple of years.
This result is not the resounding victory many predicted. One senior Labour figure and Drakeford supporter whispered to me, "That was close".
Another said: "A win's a win... who can remember what Carwyn's margin of victory was nine years ago?"
He is the ultimate government insider - an adviser to the late former first minister Rhodri Morgan before succeeding him as the AM for Cardiff West and holding a variety of senior positions at cabinet level.
But while he is well known in political circles, many voters have never heard of him. This will be a challenge for him.
His predecessor Carwyn Jones was a strong political campaigner who was perhaps at his best in the glare of the cameras. Mr Drakeford says being in the spotlight is not something he enjoys.
The AM positioned himself as the candidate of the left in this contest, reminding Labour members repeatedly that he was a supporter of Jeremy Corbyn from the very beginning.
He benefitted from Momentum's endorsement as a result. But all the evidence is that Mark Drakeford is a pragmatic politician. There will be no handbrake turns to the left.
But he is a sceptic over the M4 relief road. He intends doing nothing in this assembly term with the partial income tax varying powers on their way to Wales unless compelled to do so.
And he knows jobs and businesses are currently in the shadow of Brexit uncertainty. The chaos at Westminster is something he has little control over.
His reluctance to embrace calls for a second referendum on Brexit caused frustration among some Labour members.
Similarly, his failure to help his colleague Eluned Morgan onto the ballot - it was left to Carwyn Jones to make sure a woman was involved in the contest - led some to question his judgement.
Then there is the party. He will need to bring Welsh Labour back together after the tragedy of Carl Sargeant's death.
Mr Sargeant is believed to have taken his own life after being sacked from the cabinet by Carwyn Jones over allegations of sexual harassment.
Mr Drakeford is an intelligent and experienced politician. But he will also need luck and good judgement.