UK government stored up Welsh train problems, says civil servant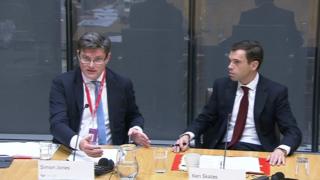 Train problems on Wales' railways were deliberately "stored up" by the UK government, a Welsh Government civil servant has told assembly members.
Transport projects director Simon Jones made the claim while addressing AMs.
Last week, Transport for Wales (TfW) bosses said they did not know what suddenly caused so much damage to trains, disrupting journeys last month.
Almost 20 out of 127 trains were out one weekend. The UK government said it is committed to better rail journeys.
After apologising to passengers, TfW warned them to expect more problems on the network.
Giving evidence to an assembly committee on Wednesday, Mr Jones, Director of Economic Infrastructure at the Welsh Government civil service, said it had raised problems with the rolling stock before taking over the new railway franchise for Wales.
"The UK government were not interested with our problems, they wanted that to be dealt with as part of the new franchise," he said.
"So those problems have been stored up by design by the previous owners of that contract, and it's for us to unpick that over the 15 months we've got between now and the end of 2019."
Welsh Government Economy Secretary Ken Skates told AMs the previous contract, negotiated by the Labour UK government with Arriva Trains Wales before devolution, was "not fit for purpose, and Arriva Trains Wales met the conditions of the contract".
"But the standards were so low that the trains only needed to be maintained to the very minimum," he said.
Mr Skates compared the handover of the trains as buying a car.
"When you buy a car you know there's an MOT which means there's a minimum standard, but what we didn't know was the list of advisory lists which were there as well".
Simon Jones added that the UK government's decision to cancel its full electrification programme, including the line between Cardiff and Swansea, also caused many problems.
He said there was an expectation that many of the trains used on lines due to be electrified would become available for other lines, so there was no need for new diesel rolling stock.
Mr Jones said, when that did not go ahead "it led to a problem with the availability of diesel rolling stock".
"Because all of those lines which were going to be electric still needed be under diesel," he said.
"There have not been any diesel trains manufactured for quite some time. And the UK as a whole - in a time of passenger growth - is really suffering from the absence of diesel rolling stock."
'Modernisation'
Last week Arriva defended itself against criticism of its maintenance record, saying had gone "above and beyond" its contractual obligations.
A UK Department for Transport spokesman said: "The UK Government is committed to delivering better journeys for train passengers in Wales and has committed to provide £125 million towards the costs of the Valley Lines Electrification in south Wales.
"The modernisation of the Great Western Mainline will improve over 100 million rail journeys each year, and stimulate economic growth from south Wales to London."