Arriva Trains Wales 'went above and beyond' with £30m investment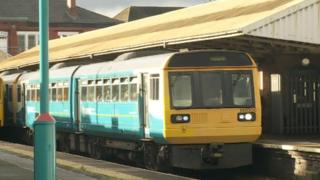 Wales' former rail operator has defended itself against criticism of its maintenance record after the new franchise suffered huge disruption
Train services provided by new operator Transport for Wales (TfW) have been hit by cancellations as rolling stock repairs take place.
TfW's James Price said on Thursday the fleet had not been maintained "quite as well as it could have been".
But Arriva said it went "above and beyond" in its contractual obligations.
TfW's contractor Keolis-Amey, who took over the Wales and Borders service in October, had a quarter of Welsh trains out of service at one point and warned services would be cut until mid-December.
A spokesman for Arriva said the company had invested £30m over the fifteen years of its franchise until October.
"We have left the network in a much stronger and safer condition than when we found it," he said.
Claiming the company "acted in good faith" as the franchise came to an end, he said it invited the new franchise "to work with us ensure as smooth a transition as possible."
"This year we delivered our autumn preparedness plan in full and, in doing so, increased spending on train maintenance relative to previous years," the Arriva spokesman said.
"In this instance, and others, we have gone above and beyond our contractual obligations."
He added: "All spare parts and tools within our control were transferred to the new franchise holder with all parties having access to take stock reviews prior to transfer."
On Thursday transport bosses said they did not know what suddenly caused so much damage to the TfW network's trains.
Disruption was caused after 20 trains out of a fleet of 127 were withdrawn on a single weekend due to damaged wheels.
James Price, chief executive, told an assembly committee that a number of trains should be back to normal "within the next few days to a week".
Mr Price said "the fleet as a whole was not maintained quite as well as it could have been".
"We were mostly aware of that. I think it's a bit worse than we thought actually," he added.