Train damage unexpected, say Transport for Wales bosses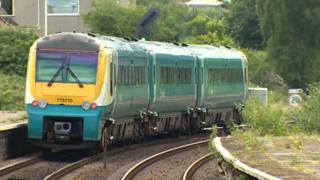 Transport bosses have said they do not know what suddenly caused so much damage to trains, disrupting journeys across the railways earlier this month.
Transport for Wales (TfW) has apologised to passengers, warning them to expect more problems on the network.
Almost 20 trains out of a fleet of 127 were withdrawn in a single weekend due to damaged wheels, AMs were told.
The number of trains should be back to normal "within the next few days to a week", TfW told an assembly committee.
But the economy committee heard the timetable could be affected by Storm Diana.
TfW chief executive James Price said there had been an unexpected increase in "wheel flats", when wheels go out of shape, two weeks ago.
"What no-one expected to happen is the number of wheel flats to occur on that particular weekend where I think we had nearly 20 units suddenly come out of service over the Saturday and Sunday," he said.
Under the previous operator Arriva, which handed over the Wales and Borders franchise to TfW in October, Mr Price said "the fleet as a whole was not maintained quite as well as it could have been".
"We were mostly aware of that. I think it's a bit worse than we thought actually," he added.
"The wheel flats things did come out of leftfield on that weekend."
Independent experts from France's national rail company SNCF have been brought in to help.
There were "eight or nine" reasons that could be to blame, Mr Price said, "but the best experts in Europe cannot yet really assess exactly what went wrong".
Protection systems for the wheels will be fitted, he added, and TfW has found ways to carry out repairs quicker.
The Welsh service has the lowest level of wheel-slip protection in the UK, AMs heard.
At the moment, 100 trains were operating - short of the 103 required for a full service. Initially, TfW hoped to have 110 trains on the track by Christmas.
The number of wheel flats - which had "gone through the roof" this year, Mr Price said - was related to the weather conditions, but there may be other factors.
Upgrade
He went on to say that recent changes to the way tracks are cleaned across the UK "exactly correlate with it getting worse in Wales, and the difference is, they've got wheel-slip protection, we haven't".
"So one of the suggestions is that a significant causal factor is something that has been good for the UK as a whole - because the UK as a whole has got modern technology - has been significantly negative for Wales."
TfW has promised a £5bn upgrade of the network, including the creation of the South Wales Metro.
New trains have been ordered, but they take two years to build.
In the meantime, Mr Price said he hoped TfW would be able to lease more trains from February next year to help with overcrowding.