Welsh Labour leadership: Who is Mark Drakeford?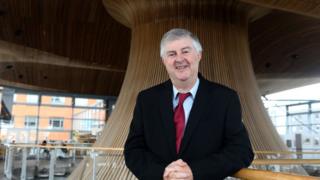 The front-runner from the beginning, new Welsh Labour leader Mark Drakeford has been a key figure in the Welsh Government stretching back to the Rhodri Morgan era.
The new first minister held two of the most important posts in government under his predecessor Carwyn Jones, and he was the only candidate to have backed UK Labour leader Jeremy Corbyn when he first battled for election.
But despite being considered in pole position from the start, the Cardiff West AM has said he had no "personal ambition" for the job.
While happy to be identified with the UK Labour leader, he does not come from the same tradition as him. He has come to be seen as a pragmatist in government, albeit from the left.
Aged 64, the politician grew up in Carmarthen. Mr Drakeford's grandparents were farmers, while his father was a teacher.
Mr Drakeford went to the Queen Elizabeth Grammar School for Boys, before going on to study Latin at the University of Kent. He worked as a probation officer and Barnardos project leader in west Cardiff before pursuing a career in academia.
Having lectured at Swansea University, he went on to become a professor of social policy and applied social sciences at Cardiff University.
Mr Drakeford got his first taste of electoral politics as a councillor on the old South Glamorgan County Council. He served the Cardiff ward of Pontcanna between 1985 and 1993 alongside Jane Hutt and Jane Davidson, who both also served in the Welsh government.
After the establishment of the National Assembly for Wales, the professor joined Rhodri Morgan's government as a special advisor.
He did the job for 10 years - advising ministers on health and social policy before heading up Rhodri Morgan's political office. He has described Mr Morgan as his mentor.
Mr Drakeford was the author of the phrase "Clear Red Water", which came to represent the different direction Welsh Labour took to the Tony Blair government of the time.
The dad-of-three, who is married to Clare, 64, held the Cardiff West seat for Labour when the former first minister retired at the 2011 election.
After almost two years as a backbencher, when he served as chairman of the assembly's health and social care committee, he went into Carwyn Jones' government straight to the senior cabinet level.
In government
Taking the reins of the Welsh NHS, he was the health and social services minister from March 2013 and moved to the local government and finance cabinet secretary brief in 2016.
At a reshuffle the local government job was moved to Alun Davies, but by then Mr Drakeford's remit had expanded into handling the Welsh Government's approach on Brexit.
As health minister, Mr Drakeford mounted a passionate defence of the Welsh NHS as it came under criticism for its performance from the then-PM David Cameron.
His attempt to introduce a partial indoor-ban on e-cigarettes was scuppered, though, when now-former AM Leighton Andrews upset Plaid Cymru.
In his finance role he has continued to oversee increases in budgets for the NHS, while other departments have less generous settlements or face cuts.
Five things you didn't know about Mark Drakeford
In harmony - he can play the ukulele and clarinet
Moo! He says he's the only Welsh minister to have milked a cow
Howzat? He's a cricket fan
Knows his onions - he has an allotment
Et tu... He studied Latin at university
The Cardiff West AM has been a member of the Glamorgan County Cricket Club for 49 years, longer than he's been a Labour member.
During the campaign Mr Drakeford said he was a "hesitant" candidate at first, and said he had "no personal ambition" to be first minister.
He said: "There are parts of the job which I know I will enjoy very much, but having worked for 10 years in Rhodri Morgan's office I know there are parts of the job that, you know, I won't look forward to as well."
His approach to Brexit was a flashpoint in the campaign. While rival Vaughan Gething said Brexit should be stopped, Mr Drakeford said work needed to be done to prepare. Mr Gething said his tone was "awful".
What will he do?
Mark Drakeford was one of the two candidates to have produced a manifesto.
He has promised further restrictions on smoking - extending the ban to outdoor areas of cafes and restaurants, and city and town centres.
The document proposes installing drinking fountains across Wales, double allotments, and requiring all new homes to have fibre broadband connections.
A "baby bundle" scheme would be piloted - similar to baby box schemes in other countries with a package of essential items.
A committee to advise the Welsh Government on the Hinckley Point power plant in Somerset is proposed by the new first minister, who has said he is sceptical of nuclear power.
Proposals by Gerry Holtham to fund elderly social care in Wales through a tax have also been backed by Mr Drakeford.
The AM promises to institute an annual review of PFI contracts across the Welsh public sector, and to buy them out where that is better for public finances.
Mr Drakeford says he would commission an "analysis of where Wales has the opportunity to lead innovation" in artificial intelligence, and work with councils to enhance public Wifi.
One decision looming is over the M4 Relief Road, but Mr Drakeford's document makes no specific mention of it.
Instead, it says the government would "maintain our commitment to tackle congestion, particularly in areas such as on the A55 in north Wales, the A40 in mid and west Wales and the M4 in south Wales".
He vows to keep Wales' 22 councils.