Extra cash for Welsh councils announced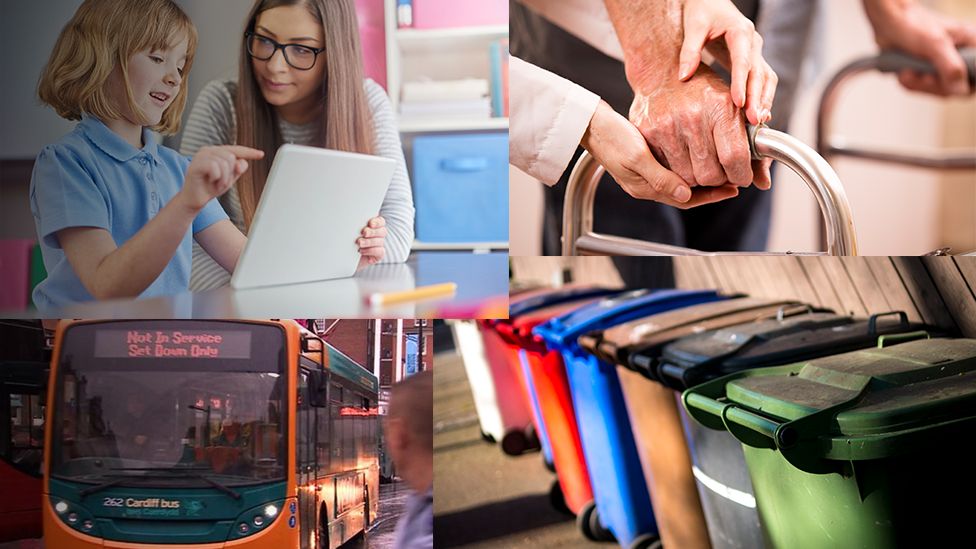 Extra cash has been announced for local authorities, including those hit hardest by cuts to their funding from the Welsh Government next year.
The Isle of Anglesey, Conwy, Flintshire, Powys, Monmouthshire and Gwynedd were facing 1% cuts.
Finance Secretary Mark Drakeford is to give councils an additional £14.2m next year to their main grant, with no council losing more than 0.5%.
Council leaders said finances would remain "challenging".
An additional £15m will go on teachers' pay over two years, and £2.3m to children's services in 2019-20, Mr Drakeford said.
Local government had warned that the initial announcement of real-terms cuts in October did not provide enough funding for local services.
Mr Drakeford's announcement follows the UK government budget, when £550m extra over three years was announced for the Welsh Government.
First Minister Carwyn Jones had said local government would be at the "front of the queue" for any extra cash.
But, at the time of the budget, Welsh ministers argued that much of the sum announced was not new.
Mr Drakeford said that £13m extra would be given to local government in 2019-20 to provide the sector "with a cash flat settlement", with an additional £1.2m to ensure no council faces a reduction of more than 0.5%,
He also announced £6m for the current financial year for Welsh councils to help meet costs associated with Storm Callum.
An extra £4m will be provided to meet pressures on social care in 2018-19.
Welsh Local Government Association (WLGA) leader Debbie Wilcox said the announcement "signals significant progress in our ongoing deliberations" with the Welsh Government.
But she said it remained a "particularly challenging financial settlement after eight years of austerity".
"In particular, schools and teachers' pay pressures remain and a huge pension cost remains unresolved," she added.
"Welsh Government and WLGA are writing jointly to Westminster to press for this to be fully funded by the Treasury."
Assembly Conservative local government spokesman Mark Isherwood said Welsh ministers "had to act due to the blatant attempts to short change some councils in favour of Labour-run ones", calling for a "fairer and transparent distribution of the funds".
Plaid Cymru's Rhun ap Iorwerth said the announcement was a "start" and he called on to ministers "look at diverting funds towards councils" from elsewhere in the draft Welsh budget.
UKIP assembly group leader Gareth Bennett accused Welsh ministers of "constantly blaming austerity" rather than "working more constructively with Westminster and local authorities to deliver services for the people of Wales". But he also welcomed the extra money for councils affected by Storm Callum.
Analysis by Ed Gareth Poole, Wales Governance Centre
This statement adds an additional £24m in day-to-day spending on top of previous announcements.
£13m will give a welcome boost to councils' coffers, but this may fall short of local government's hopes given demographic and cost pressures facing adult social care and education in particular.
The additional support to meet the teachers' pay settlement will be welcomed, as will the funds to limit the cuts to any council to 0.5%.
In his budget statement, the chancellor set aside £4.7bn in reserves to cover the required increases in pension costs across all UK departments.
Although we don't know yet how much of that will be passed on to the Welsh Government, this may further help with the very real cost pressures local government is facing.
While useful in identifying the priorities for additional funding, the statement does not specify exactly what annual additional monies (or "Barnett consequentials") the cabinet secretary for finance expects to receive from the chancellor's budget announcement, and how the Welsh Government plans to distribute these additional funds.
That would be important in understanding the new budget limits under which the finance secretary is working.
Related Internet Links
The BBC is not responsible for the content of external sites.