Ignore Welsh young on Brexit 'at our peril'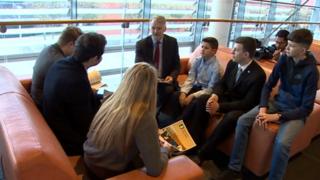 Young people's views on Brexit are ignored "at our peril", according to the author of a new report for the Welsh Government.
Lynne Hill's research for Children in Wales found young people are "knowledgeable and keen to engage in any discussions on Brexit".
Over the past eight months the organisation has heard the views of more than 650 people aged eight to 21.
Ministers said the findings would "inform our policy development".
Opinions were gathered at youth clubs, in schools and on social media.
The report said: "While the young people expressed views reflecting both leave and remain, the stronger view from young people was to remain.
"A very wide range of issues were identified by young people including the environment, education, human rights and opportunities to travel and study abroad.
"Young people are very keen to understand how the new relationship with Europe will develop and how it will affect their future options."
Ms Hill, who is a lead researcher, said: "I think it demonstrates that we miss out talking to young people at our peril.
"They have lots of very positive views, they have lots of challenging ideas and they are keen to engage."
'Our opinions do matter'
A group of young people visited the Senedd to present the report to Children's Minister Huw Irranca-Davies.
"We just want the certainty to know we will be listened to and that our opinions do matter," said 15-year-old Amber from Burry Port.
Callum, 14, from Cardiff, believes schools should offer education around Brexit. He's also worried that Brexit is "pulling us apart".
Calling for young people to be given the right to vote so they can shape Brexit in the future, 14-year-old Victor from Cardiff said: "If you grant somebody the right to vote they will go out and they will research to make sure that their say is meaningful."
"This report is incredibly useful," said 16-year-old Connor from Cardiff.
"But I think the fact that we have to have a report for young people's views is a little bit silly."
The report says the Welsh Government "should consider how young people are given the information and tools to understand, learn about, and engage with democratic processes... thus enabling them to become more active and informed citizens".
And it said the UK government "should also have a role in informing and enabling young people to learn about and understand the political processes that impact on their lives".
Mr Irranca-Davies said: "The message from this important piece of work is very clear.
"Young people are frustrated they have not been given a say."
Mr Irranca-Davies added the report's findings would be shared across Welsh Government and they would "inform our policy development going forward".