Welsh ministers do not support Brexit withdrawal deal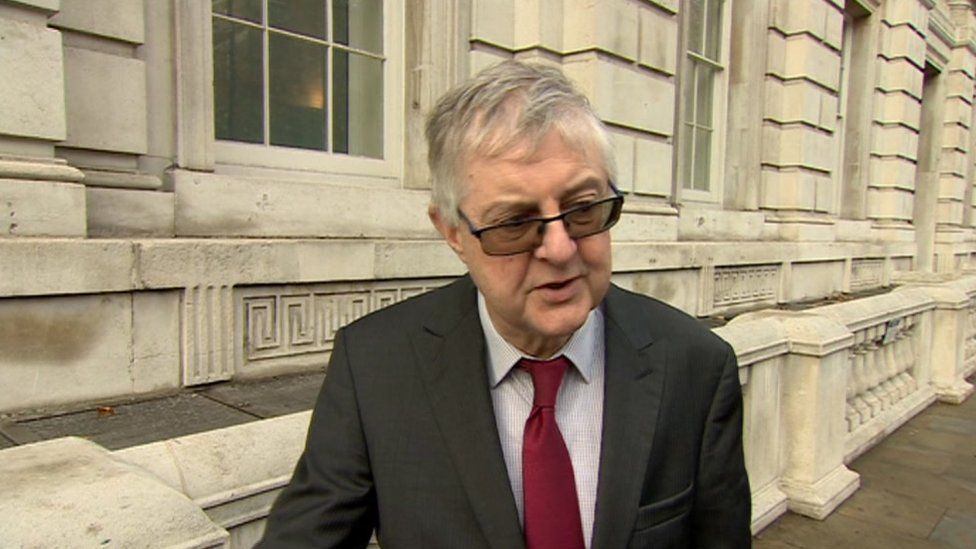 The Welsh Government does not support the UK government's Brexit deal as it stands, a senior Welsh minister has said.
Mark Drakeford met UK government ministers on Monday after a spat over the draft EU withdrawal plan.
He said the "straight-talking" meeting was told Welsh ministers must be involved in talks over the future relationship with the EU.
UK minister David Lidington said the discussion was "business like".
Finance secretary Mr Drakeford said the Welsh Government wants to see "continued membership of a customs union", "securing full and unfettered access to the single market" and "a sensible approach to migration".
A vote is expected in the assembly on whether AMs support the withdrawal agreement, although the decision will not be binding on the UK government - as it is not a devolved matter.
Monday's meeting of the joint ministerial committee (JMC), which includes ministers from Wales and Scotland as well as Westminster, was scheduled on Friday after the two first ministers of the countries, Carwyn Jones and Nicola Sturgeon, wrote a letter scathing of the handling of the withdrawal plan.
Mr Jones and Nicola Sturgeon had told the prime minister it was "symptomatic of the chaotic approach to the negotiations" and lacked any "meaningful engagement" with their administrations.
The Wales Office said a meeting was always planned after the agreement of the draft plan by cabinet.
Prior to the meeting, Mr Drakeford told BBC Wales that the withdrawal agreement "does not go as far as it needs to go to secure our agreement, and the very flimsy future relationship document is certainly not in a position that we could agree to support it".
He said it had been a "straight-talking" discussion and that "some frank things had to be said to the UK government on behalf of Wales and of Scotland".
The withdrawal agreement text agreed with EU includes a short "political declaration" on the future relationship with the bloc, which is yet to be negotiated.
In those talks "responsibilities that are devolved to Wales will be on the table for discussion", he said.
"English ministers in those circumstances are just that, they are not UK ministers, they are ministers only with a responsibility for England, therefore our voice and our priorities have to be directly reflected in those discussions."
Cabinet office minister Mr Lidington said: "The Scottish and Welsh governments have set out clearly, as I expected, their continuing political differences with the UK about the overall direction travel on Europe.
"But, we then had a business like discussion about those changes that they'd like to see to the draft text of the political declaration on our future partnership - those things they thought require a stronger emphasis.
"And I promise to ensure those views are communicated directly to the Prime Minister and her negotiating team."