Carwyn Jones 'should have been shown Brexit deal'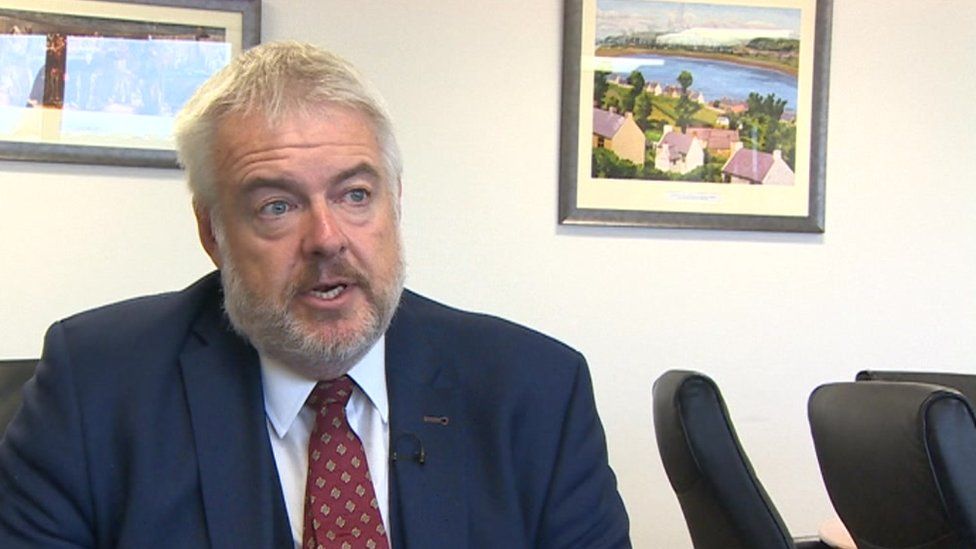 Theresa May should have briefed the Welsh Government on the Brexit deal before cabinet talks opened, First Minister Carwyn Jones has said.
Mr Jones said there was a "method" that would have allowed the documents to have been shared privately.
But Welsh Secretary Alun Cairns said it was a "reserved area of policy" for the UK government to deal with.
The prime minister's cabinet agreed to the draft withdrawal agreement after hours of talks on Wednesday.
After this had concluded, Theresa May spoke to Carwyn Jones over the phone.
"I can understand why she would want to share the agreement with cabinet ministers first," Mr Jones had earlier said.
"But my assumption was that was being done over the course of last night and this morning.
"Once that process had been completed she could have made sure those documents came to use before the formal cabinet meetings, as I understand it they'd all seen the document anyway.
"There is a method for sharing these documents privately, but that's not been used, it means now here I am, sitting here, same for the first minister of Scotland and everybody else, trying to offer comments on something we haven't seen."
He also reiterated his call for a general election if the deal cannot get through parliament - if that did not happen or the result was inconclusive he argued for a further referendum.
Spoken to @theresa_may this evening who outlined broad terms of #brexit deal. We now need to consider detail of what's proposed. Consistently made clear the need for full & unfettered access to single mkt & participation in a customs union to protect economy & Welsh jobs

— Carwyn Jones (@fmwales) November 14, 2018
But a source in the UK Government said: "Wales is represented by the secretary of state and he will scrutinise and make the case in cabinet."
Mr Cairns echoed the view, adding: "This is a reserved area of policy.
"There are two governments in Wales. I don't tell the Welsh Government what to do on health policy and this is a matter that is a European policy as well as a UK government policy."
He said Welsh politicians could run to be an MP or a member of the House of Lords to have a role, adding: "If Carwyn Jones the first minister wants to do that then of course he is more than welcome to run."
UKIP leader in the assembly, Gareth Bennett, said: "We are heading for a complete betrayal of Brexit.
"The prime minister has put something together that is not going to satisfy Remainers or Leavers.
"The deal will be even worse than remaining in the European Union."
Plaid Cymru's Liz Saville Roberts said: "The prime minister seems to have achieved the incredible feat of creating unity between those on both sides of the Brexit debate. A deal that pleases none of the people, all of the time."
"There is a better way - a People's Vote that includes the now-preferred option of the people of Wales, to remain in the European Union," she added.
Preseli Pembrokeshire Tory MP Stephen Crabb, who voted Remain and is also a former work and pensions secretary, said: "Brexit was always going to be a long and ugly process.
"There is no shiny perfect Brexit deal available - only difficult choices and compromises.
"For a divided nation, the deal the Cabinet has endorsed tonight looks responsible and reasonable."
Labour MP for Aberavon Stephen Kinnock said he would not back the deal in the House of Commons.
"I'm not prepared to go through the division lobbies and vote for a truck load of fudge, which is I think what this political declaration about the future relationship will be," he said.