Welsh Labour leadership: Do people know the candidates?
By Daniel Davies
BBC Wales political correspondent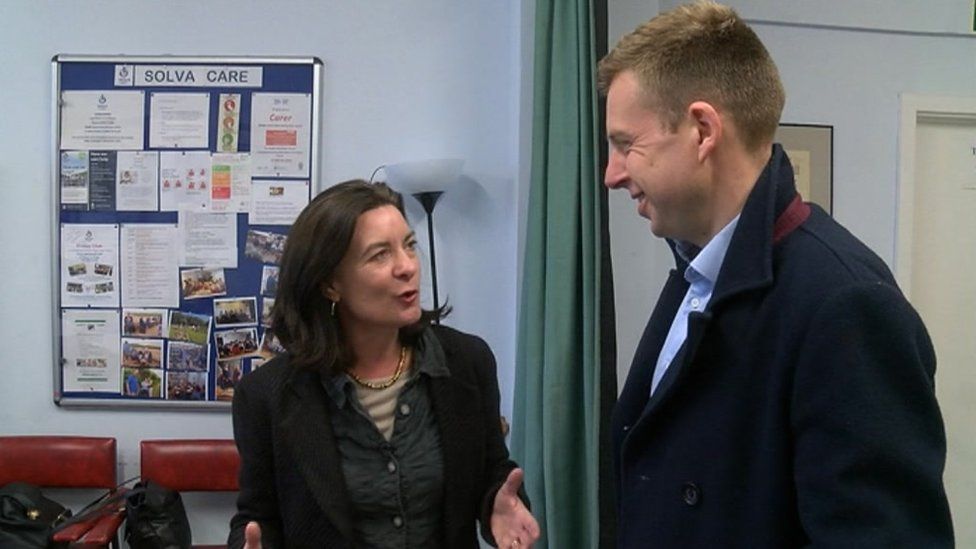 Coffee mornings, student unions, eating grapes in a volunteer-run garden: the places you end up when following three would-be first ministers.
I've been travelling around filming interviews for Wales Today with the Welsh Labour leadership candidates.
They're familiar figures to anyone interested in Welsh politics, but not to most of the public.
In fact, the best evidence we have suggests Vaughan Gething, Mark Drakeford and Eluned Morgan are virtually anonymous.
All three are ministers, with the ability to affect our daily lives. Soon, one will win a contest that puts even more power in their hands.
And yet it would appear that "the majority of people have little or no idea who they are", says Professor Roger Awan-Scully, Wales' top expert on opinion polls.
He's been working with YouGov to ask what people think of these potential leaders.
They've put the question in various ways, but there's only one winner so far: don't know.
When invited to rate and rank the candidates, most people prefer not to answer. And the high percentage of "don't knows" is a pretty good indicator that people couldn't even identify the candidates, says Prof Awan-Scully.
In their most recent poll for ITV Wales, fewer than a quarter of respondents picked a favourite. The findings were not much better when only Labour supporters were asked.
Early polls in March and July - before the campaign proper started - had similar results.
"Basically the campaign has done nothing significant to improve visibility," Prof Awan-Scully says.
He has another sobering thought. Things could be even worse than the polls suggest. The figures might overstate the true extent of the public's knowledge, says Prof Awan-Scully, because people who are not engaged in politics are less likely to participate in an opinion poll.
This cannot be good for Welsh democracy at a time when the assembly and Welsh Government are growing in power. After all, Labour Party members are being asked to pick someone who will lead an administration with the ability to raise taxes.
What's more, the candidates have limited opportunity to contact potential voters.
Their campaigns get the names and phone numbers of party members, but not email addresses - they have to rely on the party to distribute three electronic mailshots on their behalf.
Hustings have been taking place around Wales. We weren't allowed in (although I did hang around with a camera outside one on a cold, dark, night in Carmarthen), but I'm told turnout has been pretty good.
Even so, only a fraction of the more than 25,000 Welsh Labour members, or the trade unionists who also have a vote, will be able to attend them.
It makes social media activity and coverage in the traditional media crucial.
There are plenty of reasons why recognition factor is so low: Wales' small and shrinking media industry; or perhaps a sense that there isn't much at stake in the assembly has turned people off.
Whatever the causes, it isn't just a problem for the three candidates. It should concern us all.
Place of birth: Carmarthen
Assembly constituency: Cardiff West
Political career: Worked as a Welsh Government special advisor under Rhodri Morgan; became assembly member in 2011, joined Welsh Government as health minister 2013 and became finance secretary in 2016
Before politics: Probation officer and youth justice worker; a professor at Cardiff University
Campaign slogan: 21st Century Socialism
Place of birth: Lusaka, Zambia
Assembly constituency: Cardiff South and Penarth
Political career: Joined the assembly in 2011, became a deputy minister for health in 2014 and health secretary in 2016
Before politics: Solicitor; former president of NUS Wales; youngest ever president of Wales TUC.
Campaign slogan: Change Takes Courage
Assembly region: Mid and West Wales
Political career: Became youngest MEP when she was elected to European Parliament in 1994; made Baroness Morgan of Ely in 2011; served as shadow minister for Wales in the House of Lords and shadow minister for Foreign Affairs; elected to Assembly in 2016; became Welsh Language minister in 2016.
Outside politics: Worked as director of National Business Development in Wales for energy firm SSE from 2009 to 2013
Campaign slogan: Change Starts Here With You