Closure difficult over Carl Sargeant death, says Labour MP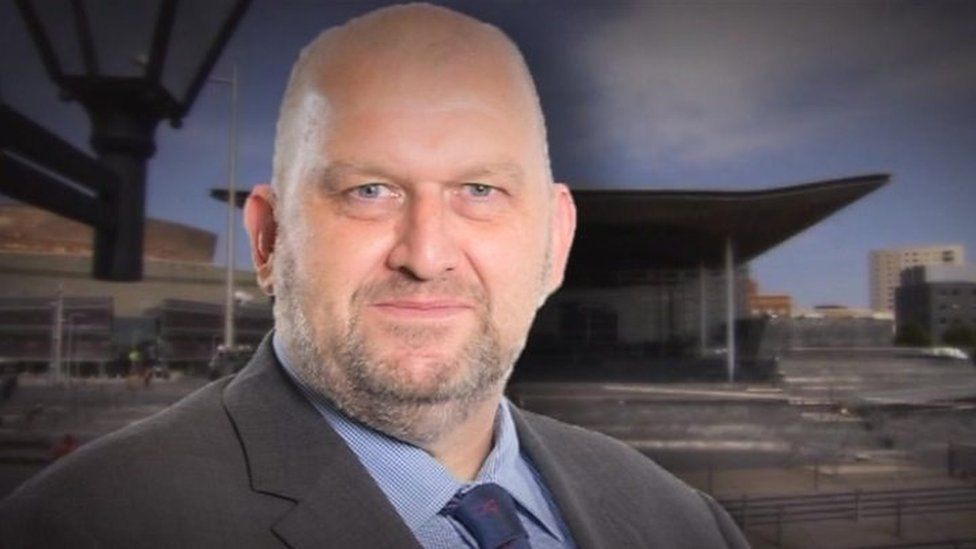 Closure a year on from the death of Carl Sargeant is "very difficult" when a probe into the former minister's sacking by Carwyn Jones has not begun, close former colleague and Labour MP Mark Tami has said.
AMs met privately on Wednesday to mark the first anniversary of Mr Sargeant's death.
The AM was found dead at home days after he was sacked by the first minister, with hanging given as his provisional cause of death.
Labour group chairwoman Vikki Howells said: "We all miss Carl tremendously, he was a friend to us all and a fantastic colleague."
An independent investigation, to be led by QC Paul Bowen, was called by the first minister following pressure from Labour politicians including Mr Tami.
But it is yet to get underway after legal action by Mr Sargeant's family, who wanted their lawyers to be able to cross-examine witnesses.
Mark Tami said the death of Mr Sargeant has cast a shadow over the Welsh Government and "made it very difficult" for Carwyn Jones.
"The inquiry still hasn't really got off the ground, and that really makes closure very very difficult," Mr Tami said.
He said the legal action had come about because the family did not feel the terms "were fair and were right".
"I would have hoped everything would be done to make sure the family do have what they think is a fair and appropriate type of inquiry," he said.
Mr Tami serves the same constituency that Mr Sargeant represented - Alyn and Deeside - and shared an office with him.
Asked if he felt Mr Sargeant's death had cast a shadow over the Welsh Government, Mr Tami said: "I think it did, and it has, and obviously I think Carwyn has been an incredible successful leader of Welsh Labour and leader as first minister but clearly we're still now thinking about those terrible events.
"I think it made it very difficult for [Carwyn Jones]... it isn't for me to say what people think, but those tragic events have influenced and hurt everybody I think."
The family had sought a judicial review, but this has been refused. Their lawyers are set to appeal at a hearing in the Royal Courts of Justice next Tuesday.
A tragedy that shocked Wales' political class
By Felicity Evans, BBC Wales political editor
The death of Carl Sargeant left his family grief-stricken and the Welsh Government and Labour party in crisis.
Within six months Carwyn Jones had announced plans to stand down as first minister; his authority sapped away by a cycle of claim and counter-claim about his handling of Mr Sargeant's sacking.
Those competing to replace him have all spoken of the need to heal the wounds within the Labour group of AMs and draw a line under a tragedy that shocked Wales' political class to the core.
But that will be difficult, with the independent inquiry pending and with Mr Jones due to give evidence at the inquest into Mr Sargeant's death.
And what of the wider questions that go beyond this tragedy? How do you treat allegations in a way that is fair to both the accused and accuser?
And how can institutions create a culture and a complaints system that has the confidence of those they are supposed to protect?
Lovely event to remember Carl earlier. We all had a chip butty in his memory. Nice gesture by @ann_jonesam

— Lee Waters AM (@Amanwy) November 7, 2018
AMs marked the anniversary by holding a event in the assembly with his favourite snacks - chip butties and custard creams.
The assembly's presiding officer, Elin Jones, paid the legislature's condolences to the son of Jack Sargeant and his family at the start of proceedings on Wednesday.
In the Senedd Plaid Cymru AM Bethan Jenkins said: "If you're up there listening to us, we are alright mate, but we will always remember you, and we will do justice to your legacy, but we miss you terribly here today."
Welsh Conservative assembly group leader Paul Davies said: "The Sargeant family, the assembly, and the people of Wales are still waiting for answers surrounding his death and I hope that they come to light in a fair, legal, and transparent manner."
Plaid leader Adam Price said the anniversary will be "focusing a lot of our minds on the terrible loss and trauma that his family would have gone through".