Ex-watchdog to examine whether UKIP barmaid video was sexist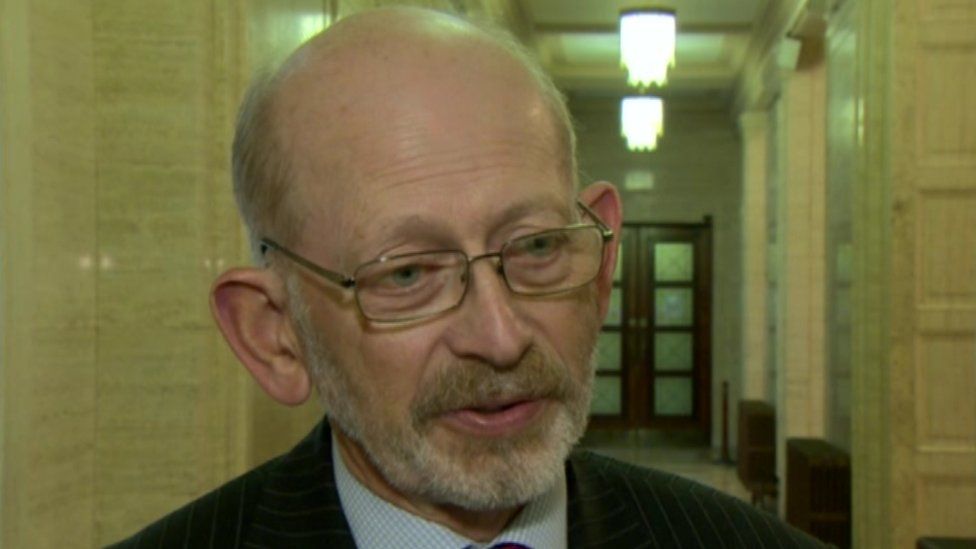 A fresh investigation into a video by a UKIP AM is to be held by a former standards commissioner in the Northern Ireland Assembly, Douglas Bain.
The Welsh Assembly's standards watchdog Sir Roderick Evans had decided the video about Joyce Watson by Gareth Bennett was not sexist.
But, amid uproar, he called for a new probe which he later recused himself from.
The video superimposed Ms Watson's face on the body of woman in a low-cut top.
AMs agreed the appointment on Tuesday - but there were concerns from ex-UKIP AM Mark Reckless and former UKIP group leader Neil Hamilton that the complaint was being, in effect, reinvestigated.
Ms Watson, the AM for Mid and West Wales, had said the video's allusion to what she described as "buxom barmaids" was "inherently sexist".
In the chamber on Tuesday Mr Reckless said: "We have a standards commissioner. I respect him and his decisions, and if he's considered a matter, surely we should accept that decision rather than complain about him and pressure him to retake that decision in a different way, when, actually, our procedures don't allow us to."
Mr Hamilton said: "If we are to say that, regardless of the commissioner's decision, further complaints which are identical in form can be considered and reconsidered ad infinitum, then there is no end to this process."
Amid interruptions during his speech the UKIP AM told health secretary Vaughan Gething, who was heckling Mr Hamilton, to "shut up and listen".
Jayne Bryant, standards committee chairwoman and a Labour AM, said there was nothing in the law governing the standards commissioner "to prevent a complaint being looked at where one of a similar nature had been dismissed".
Douglas Bain served as the Northern Ireland assembly's standards commissioner until last year.
A UKIP spokesman said he was not in a position to comment.