Wales' MEPs set for big Brexit 'redundancy' payouts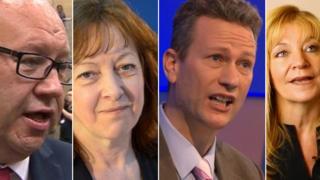 Wales' longest serving member of the European Parliament (MEP) will get a payout of €163,609 pre-tax (around £144,710) after the UK leaves the EU.
Plaid Cymru's Jill Evans, one of four MEPs representing Wales, will have served 19 full years by March 2019.
At the point of Brexit, all of the UK's 73 MEPs will receive the same benefits as any other departing European parliamentarian would be entitled to.
They will get one month's salary for each full year they were in office.
MEPs receive a monthly salary of €8,611 (£7,615) pre-tax.
Ms Evans declined to comment.
Labour's Derek Vaughan and the Conservatives' Kay Swinburne will both receive €77,499 (£68,547), having been MEPs since 2009.
Mr Vaughan pointed out that this was the package agreed by parliament. "All MEPs will receive these amounts.
"From my point of view, I hope Brexit won't happen and I'll be able to continue my work as an MEP."
Ms Swinburne has been asked to respond.
Despite only being elected in 2014 and having served just 5 years, UKIP's Nathan Gill is in line to receive €51,666 (£45,698) or the payout for six years of service because departing MEPs receive a minimum of six months' pay.
"It's the redundancy package that all MEPs regardless of their political strain will receive," said Mr Gill.
"We genuinely were the turkeys that voted for Christmas.
"We believed in Brexit and we knew we wanted to get out of this."
MEPs who go on to sit on another legislature would receive reduced payments.
In addition to the transitional payments, MEPs will also be eligible to receive: three monthly payments of €2,200 to help them wind up their offices, expenses for a final trip home and up to 15 cardboard boxes for transporting their belongings.
MEPs will be eligible to start claiming an EU pension at 63 years old.