Further cuts will hit key services, warn councils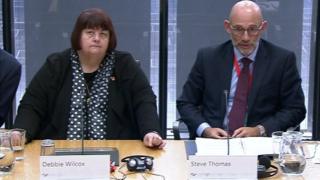 Welsh councils have "run out of road" in their efforts to protect core services from cuts, a leading local government figure has warned.
All councils face real terms cuts to funding from Welsh ministers next year.
Steve Thomas from the Welsh Local Government Association said schools and social care can expect further cuts, leading to more teacher redundancies.
Anglesey, Conwy, Flintshire, Powys, Monmouthshire and Gwynedd have been hit hardest by the funding reductions.
The assembly's local government committee was told thousands of jobs will be lost from councils over the next three years, with the association estimating 5% of its workforce will have to be cut each year for the next 3 years.
Councils employ 140,000 workers across Wales, which is 1 in every 9 worker.
The leader of the WLGA, Debbie Wilcox told BBC Wales 24,500 council workers had been made redundant over the past decade as austerity led to cuts in their budgets.
Ms Wilcox, who also leads Newport council, said there will be staff cuts across every part of Wales.
On Wednesday, Local Government Secretary Alun Davies angered council leaders by likening their requests for more money to the Charles Dickens literary creation Oliver Twist.
Last week, Mr Davies announced overall council funding will be cut in cash terms by 0.3% to £4.2bn, equivalent to £13m.
Six south Wales councils can expect more cash, but the increases are below the inflation rate of 2.7%.