Clampdown on AMs employing family at public expense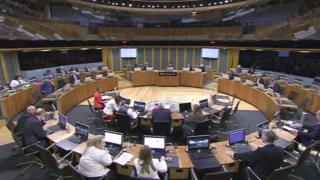 AMs should be banned from using public cash to employ family members after the 2021 Welsh assembly election, according to the panel which sets their salaries.
The independent Remuneration Board, said the new policy would bring the assembly into line with other law-making bodies.
The move would benefit "public trust in and perception of the reputation" of the assembly, the board said.
Currently 14 assembly members use public funds to employ family members.
In a report, the board, chaired by the former Labour MP Dame Dawn Primarolo, said: "Provisions contained within the staffing support for members should be open, transparent and encourage people from all backgrounds to work in the assembly.
"With these principles in mind, we are proposing to remove funding for the employment by assembly members of members of their family."
The report said any AM wishing to employ a family member after April 2021 should "pay for these posts from their own funds".
The board also proposes any new family members recruited after 24 October 2018 should not have their post publicly funded after 31 March 2019.
It adds that any current family member promoted after 24 October 2018 should not have their new post funded after 31 March 2019.
The report said: "At that point, those staff would either be offered the opportunity to revert to their previous role or made redundant."
There are currently 14 AMs who between them employ 17 support staff who are either family members or partners, some of whom employ a partner and/or more than one family member or partner.
All AMs and their support staff are being consulted on the issue.
They have until the start of December to make their views known to the Remuneration Board.
A similar ban was introduced for MSPs in Scotland in 2015.
At Westminster, MPs elected last year for the first time are not allowed to employ spouses and other relatives using taxpayers' money.
However, MPs who were re-elected in June 2017 were allowed to continue employing "connected parties".