Labour's Gething attacks colleague's Oliver Twist council jibe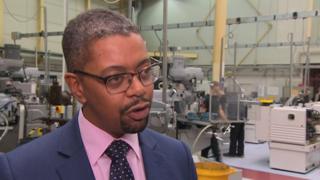 A Welsh Labour leadership contender has urged ministers to avoid "pointless" confrontations after a colleague compared councillors to Oliver Twist.
Vaughan Gething has distanced himself from the remarks made by Local Government Secretary Alun Davies.
The health secretary called for a "respectful" relationship with the sector.
It comes after council leaders said First Minister Carwyn Jones should consider sacking Mr Davies.
Local authorities have been calling for more funding after the Welsh Government announced real-terms cuts.
In a BBC Radio Cymru debate Mr Davies said: "I've had a lot of councillors coming to me like Oliver Twists over the past few weeks - 'Can we have some more?'."
Mr Gething said: "We should avoid language that draws us into a pointless confrontation.
"We need to reset the relationship and be far more respectful, collaborative and supportive of our local authorities and councillors.
"Our councils are 'complaining' because of the direct consequence of Tory austerity. It is Tory austerity that is the enemy of our public services. We should never lose sight of that."
On Thursday Mr Gething will promise to end cash cuts for local authorities. "For too long, we have expected councils to do more with less," he will say.
He is expected to back allowing local authority regions to keep "any additional" business rates they accumulate, and giving councils "more control over their budgets".
Mr Gething, one of three contenders in the Welsh Labour contest, will promise to lobby assembly bosses to give council leaders access to the assembly estate "in order to demonstrate the new and collegiate relationship".
Alun Davies' comments on Hawl i Holi prompted anger from the Welsh Local Government Association (WLGA) and demands from Plaid Cymru for Mr Davies to apologise.
One of the WLGA's deputy leaders, Rob Stewart, said on Wednesday: "We call on the first minister to distance himself from the comments of the cabinet secretary and consider whether or not it is appropriate for him to remain in the cabinet in his current position."
Mr Stewart, who is also Labour leader of Swansea council, added: "The cabinet secretary's reference to Oliver Twist reflects a lack of understanding of both English literature and local government.
"Is he seriously characterising himself as the 'Mr Bumble' of Welsh Government - the cruel overseer of the poorhouse?"