Inadequate sexual harassment procedures - Leanne Wood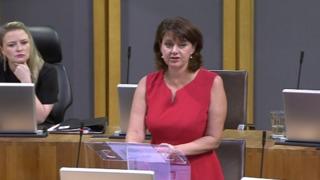 Current procedures are inadequate for dealing with allegations of sexual harassment and assault, former Plaid Cymru leader Leanne Wood has said.
Ms Wood told AMs "all too often nothing happens" when allegations are made.
The Rhondda AM said she was setting up "a new network" to provide support for women making allegations of inappropriate behaviour.
Ms Wood said that every woman she knows has experienced unwanted sexual attention.
"One year on from the #MeToo movement, and the sea change that many of us hoped it would spark has not happened," she said.
"Encouraging people to report is important, but all too often, when they do, nothing happens.
"Police and victim support services are underfunded, waiting lists for counselling and other support are unacceptably along."
She called organisations' procedures "inadequate", saying they were "unable to deal with the particular characteristics of sexual harassment and assault".
Ms Wood added: "People don't have confidence in our systems and the majority of incidents therefore go unreported.
"So, I'm putting out a call today for anyone interested in changing how we tackle sexual harassment and assault to get in touch with me to be part of a new network."