Heart of Wales Powys housing report 'makes grim reading'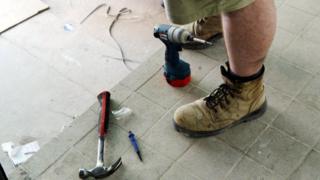 The first annual report of a company which maintains more than 6,000 properties in Powys makes "grim reading", a meeting has been told.
Heart of Wales Property Service's chairman Phil Oads asked councillors to wait a year before judging.
He accepted "we are not where we want to be".
The company repairs housing, public and commercial buildings and is a joint venture between Powys County Council and Kier Facilities Services Ltd.
Mr Oads and head of service Richard Hersey were quizzed by councillors over changes to their call centre, voids - getting empty properties ready for new tenants - school maintenance and using local companies as sub-contractors.
Councillor Graham Breeze said the firm had accepted there were problems in terms of job numbers and it recognised not enough local contractors were used.
"You've presented an annual report that makes for grim reading from what I can see," he added.
He questioned whether the joint venture, which began in July last year, had underestimated the size of Powys - which covers a quarter of Wales' land mass.
Mr Oads replied: "We did not underestimate anything except probably the skill set of those who were transferred over.
"There were some roles that just did not exist, in terms of front line managers that we thought were there.
"We didn't underestimate the size of the county but it is a contributing factor."
Apprentices
He said the report did contain indicators of some good performance and positive stories.
"I accept we are not where we want to be. I would say judge us on year two not on year one."
Councillor Gwynfor Thomas said the 44% figure for local sub-contractors being used was "not a good statistic", and Mr Oads replied: "You can't always get what you want in Powys."
The company will now focus on trying to do most of the work itself and aims to recruit seven apprentices, the Local Democracy Reporting Service reported.
During the past year it has completed more than 17,000 housing repairs, nearly 9,000 corporate and farms repairs, 400 voids repairs and 736 emergency call-outs.