Hinkley Point mud dump suspension call rejected by AMs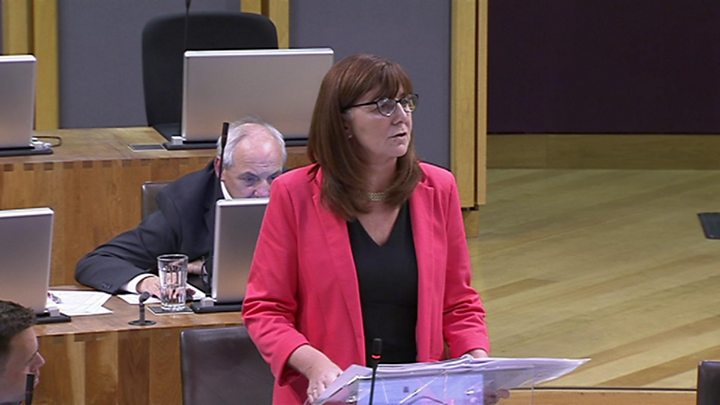 Calls to stop mud dredged alongside a new nuclear power station from being dumped near Cardiff Bay have been rejected by the assembly.
But AMs said Natural Resources Wales should do more to reassure the public.
The vote followed a lively assembly debate and protests on the Senedd steps.
Ex-Plaid AM Neil McEvoy demanded Labour listened to voters, but Environment Secretary Lesley Griffiths accused campaigners of circulating "lies".
The debate followed a petition against the dumping of mud - which is currently underway - from the Bristol Channel near the Somerset site where Hinkley Point C is being built.
A Plaid Cymru and Welsh Conservative call to suspend the NRW licence that allows the scheme to go ahead was backed by 22 opposition AMs, but 26 others voted against.
Labour AMs and Liberal Democrat education minister Kirsty Williams opposed the proposal.
The Welsh Government instead called for Natural Resources Wales to carry out further work "to explain the process".
Campaigners have called for further testing, but the Welsh Government, which oversees Natural Resources Wales, has said that existing test results show the mud poses no risks to human health.
Cabinet Secretary for the Environment Lesley Griffiths said she was "very concerned by the ongoing scaremongering and lies circulated by the campaign".
Ms Griffiths said it would be unlawful for the Welsh Government to suspend the licence.
She claimed there were some "who are deliberately seeking to mislead the public for their own political gain".
"Many of us campaigned for years for this institution, because at times like this, we expected a Welsh Government to stand up for us," said independent AM Neil McEvoy.
"But what has Labour done? Want to dump your waste on us? No problem.
"They've welcomed it. Let's for the moment forget about the potential health concerns and the lack of an environmental impact assessment. Why would you accept 320,000 tonnes of waste being dumped on your doorstep by your neighbour? Why would you do that?"
But Labour AM Hefin David accused Mr McEvoy of generating "hysteria".
But he did not think the Welsh Government "has done enough to reassure, and the cabinet secretary has a duty now to provide that reassurance".
He echoed concerns from former Welsh Government minister Jane Hutt, who called for "respect and recognition of our constituents and their concerns".
Plaid Cymru's Rhun ap Iorwerth told the debate that further testing should have taken place.
Former UKIP Welsh Assembly leader and now independent AM Caroline Jones said she believed the Welsh Government was sincere in its views on the safety of the mud.
"However, a large number of Welsh residents are not convinced, and we owe it to them to prove beyond a shadow of a doubt that this material is safe before dumping it on our coastline," she added.
Andrew RT Davies of the Welsh Conservatives said: "Welsh Labour Government ministers have the power to intervene and stop the mud dumping - but instead have scandalously turned their backs on my constituents.
"This is a sad day for Welsh democracy and the views of people along the south Wales coastline, and I'm sure this will live long in the memory of the electorate."
The government proposal, which passed with the support of 38 AMs, called on the Welsh Government "to instruct Natural Resources Wales to carry out further public engagement to explain the process and evidence to reassure the public."
A total of 10 AMs opposed the amended debate motion.
Around 100 people protested on the Senedd steps on Wednesday afternoon, while a number of boats circled the Bay as part of the demonstration.
Analysis by Steffan Messenger, BBC Wales environment correspondent
It is hard to know where the campaigners go from here.
They have already attempted legal action, now their political challenge via the assembly has failed.
And all the while out at sea the dumping goes on - we were told last week they were already half way through.
There is no doubt, though, that the activists have succeeded in churning up a considerable public debate about whether enough was done by the Welsh Government and Natural Resources Wales to inform people about this work and reassure them it was safe.