Green Party leader in Wales joins Plaid Cymru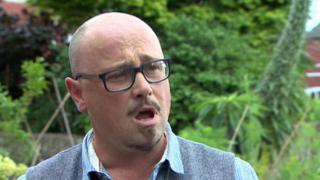 The Green Party's leader in Wales has announced that he has defected to Plaid Cymru.
Grenville Ham said a vote by Green Party members in Wales over the summer against splitting from the English Green Party had made it "untenable" for him to remain a member.
He had wanted an independent Welsh Green Party, but this was rejected by nearly 65% of members who voted.
Mr Ham called Plaid Cymru the "only party focused on the future of Wales".
Making the announcement, on the eve of Plaid Cymru's annual conference, he said: "During my time as leader of the Greens in Wales I was unashamed to admit that I wanted the sole focus to be on Wales.
"However, after the membership decided that they wanted to remain a party of two countries, I felt my membership was untenable and I resigned my leadership."
Mr Ham said he had been brought up believing Plaid Cymru was a party for Welsh speakers but "my experiences over the years have shown me that this simply isn't the case".
'Brilliant job'
New Plaid Cymru leader Adam Price said he was "delighted" to welcome him to Plaid and that his "innovative ideas for creating a green future for our country will be invaluable as we prepare our exciting programme for creating a new Wales".
Green Party of England and Wales deputy leader Amelia Womack said: "Grenville served as leader of the Welsh Green Party for a year and a half and did a brilliant job leading our presence in Wales.
"We were very sorry to see him leave the party and wish him every success in his future political endeavours."