Future income tax rise for Wales 'not ruled out'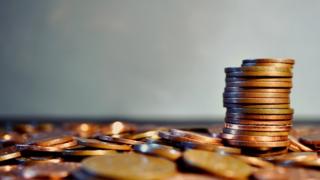 The man in charge of the Welsh Government's purse strings has left the door open to raising income tax before the next assembly election in 2021.
Mark Drakeford, frontrunner to be next first minister, said he will stick to Labour's commitment not to change tax rates "unless I'm compelled to do so".
No changes to income tax were presented in Mr Drakeford's £18bn draft budget for next year, announced on Tuesday.
Welsh ministers gain powers to vary income tax rates from April.
But Labour pledged in 2016 not to change things before the next assembly election.
Mr Drakeford, the finance secretary and a Welsh Labour leadership candidate, said: "I will not move away from our manifesto commitment unless I'm compelled to do so, but I don't rule out the possibility that circumstances could change in a way that do have that compelling impact."
Asked if he was "unequivocally" opposed to altering the rates, Mr Drakeford said: "I'm not going to say never is forever."
Manifestos had a "somewhat diminishing impact over a five-year term" as circumstances change, he said, adding: "And we have Brexit - a major difference that the manifesto never anticipated."
Putting 1p on income tax would raise between £200m and £210m for the Welsh Government.
But while writing the budget, Mr Drakeford said he worried about the impact a tax hike would have on a constituent with a minimum wage job who told him she could not afford to pay her bills.
Conservative finance spokesman Nick Ramsay said the minister's comments were "really disappointing".
"Given the pressures on household budgets for families across Wales, Labour leadership candidates should stand by their 2016 pledge and commit to not raising taxes for the lifetime of this Assembly term," he said.
The Welsh Government budget, published in draft form on Tuesday, delivers more money for health, but raises the prospect of more cuts for local councils.
Speaking to the assembly's Finance Committee, Mr Drakeford also revealed that the government will spend £130m on repaying borrowed money next year.
Analysis
By Daniel Davies, BBC Wales political correspondent
In Senedd committee room three, devolution quietly passed its latest milestone today.
Giving evidence about his budget, Mark Drakeford took us into new territory, where downward revisions of tax forecasts and the cost of borrowing are now facts of life.
This is the kind of more responsible politics that the Cameron-led coalition had in mind when it started devolving new fiscal powers.
And Mr Drakeford, the AM most likely to become the next first minister, appeared to be enjoying the extra responsibility.
Mr Drakeford told the committee that the government was forecast to earn £20m less over two years than previously expected from the tax on buying property.
The rates for land transaction tax, which has replaced stamp duty in Wales, will remain unchanged next year.
He said he would borrow £125m of an available £150m next year. The remaining £25m would be a "buffer to deal with changing events".
However, the minister warned that despite low interests rates making borrowing "cheap", repaying borrowed money meant he had less to spend on day-to-day services.
Together with schemes to help councils and housing associations, and the cost of old PFI (Private Finance Initiative) schemes, borrowing will cost the government £130m a year.