Deaf people in Wales 'being let down' says charity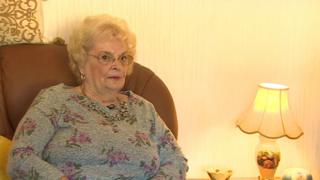 When Mary James was left without assistive equipment, life became "very frightening".
The 79-year-old, who is profoundly deaf, has waited nearly a year for a replacement doorbell at her home in Caerphilly.
Many people in Wales who are deaf or have hearing loss are being let down, Action on Hearing Loss Cymru has said.
The Welsh Local Government Association said statutory services are under considerable strain.
Mrs James contacted social services for help with a text phone and a doorbell which were both broken.
She has not yet received a new doorbell and has been told the text phone cannot be replaced.
Without the right equipment, life "can be very frightening" for her.
"I would expect them to provide equipment and also maintain that equipment if something went wrong with it," said Mrs James who has managed to fix the text phone herself.
"They don't seem to know about deaf people - and the equipment- and they just pass it on. I don't get any help from social services at all."
Caerphilly council have said it is working with the health service to ensure the needs of people with hearing impairment in the area are met.
"Support for audio devices and other specialist equipment is dependent on the supplier (eg smoke detectors may be installed by the fire service), but we try to provide as much help as possible," a spokesperson added.
Action on Hearing Loss Cymru's director Rebecca Woolley said that the current provision of social care in Wales is "not adequate" for people who are deaf or with hearing loss.
"Some of the most vulnerable people in our society are being disadvantaged and at points put in danger by the fact that they don't understand the support they are entitled to," she said.
The charity wants councils to review their provision and access arrangements for people with hearing loss.
Under the Social Services and Wellbeing (Wales) Act, people with hearing loss contacting social services for help should get an assessment, and then support which usually includes equipment, either provided or brokered with agencies.
A spokesperson for the Welsh Local Government Association said councils are under "very real challenges and pressures."
"While they continue to do all they can to limit cuts to local services, the harsh reality is that a wide range of statutory services are being placed under considerable strain, with many non-statutory services that are so important to people's wellbeing under significant threat," they said.