Councils warn of 7,000 job losses a year without more cash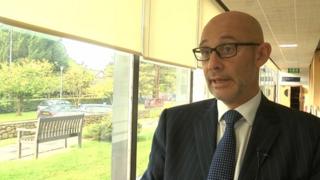 Local councils in Wales have warned they could have to shed 7,000 jobs a year unless they get more funding.
It equates to 5% of their workforce but council leaders could not say how many compulsory redundancies could be made.
Finance Secretary Mark Drakeford met local council figures on Thursday, as he prepares for his budget next week.
He was told that after eight years of austerity school budgets will shrink, council tax will rise and support for the elderly and vulnerable will be cut.
The Welsh Local Government Association (WLGA) also repeated a complaint that county halls have faced much bigger cuts than the NHS.
WLGA chief executive Steve Thomas said: "The warning signs are everywhere with bankrupt councils in England pointing to the grim outcomes of sustained austerity which include heart-breaking cuts for services that the most vulnerable rely on.
"Council tax payers across Wales need respite and the best way for Welsh Government to do this is to honour their words on prevention and properly fund local services."
A WLGA report, based on a survey of councils' budget planning, warned: "The impact of austerity on local authority jobs is quantified by the Office of National Statistics (ONS) at around 15,000.
"Many estimate that the speed at which posts are lost could accelerate and that an equivalent number could be lost over the next medium-term period as have been lost over the last seven or eight years.
"This would see councils losing 5% of posts (equivalent to 7,000 nationally) every year for the next three years."
A Welsh Government spokesman said it recognised the pressures facing public services and was doing all it could to protect councils from the worst effects of austerity.
"In preparing the 2019-20 Budget, we have been giving very careful consideration to the wide range of important services provided by local government and which so many people rely on," he said.
"Further details about our spending plans for 2019-20 will be provided on 2 October."